News story
Agreement to promote UK online exports with China
A UKTI partnership agreement with Shanghai Free Trade Zone will help UK companies develop e-commerce sales in China.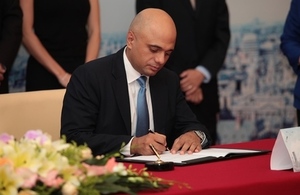 The Secretary of State for Business, Innovation and Skills (BIS), Sajid Javid, signed a partnership agreement on behalf of UK Trade and Investment (UKTI) with the Shanghai Cross-Border e-Commerce Public Platform on 23 September 2015.
The signing took place at the first ever China-UK Cross-Border e-commerce Cooperation Roundtable organised by the Bank of China in Shanghai.
Support for UK online retailers
The partnership was organised as part of UKTI's e-Exporting Programme. The agreement will support UK exporters and help promote their online sales in China by helping them to:
find new customers
build brand awareness
analyse Chinese consumer requirements
Partnership agreement
The Shanghai Cross-border e-commerce Public Platform will work with UKTI to:
provide help to UK companies wishing to sign up to e-commerce platforms registered in the Shanghai Free Trade Zone (SFTZ)
encourage e-commerce platforms registered in the SFTZ to run a marketing campaign promoting UK brands on their platforms
share information to help UK companies understand the opportunities in China and how they can be optimised through e-channels in the SFTZ
UKTI will work to grow the volume of UK online exports to China through the SFTZ e-marketplace by:
delivering a programme with UK partners to increase the number of companies seeking to export through global e-marketplaces
promoting opportunities for UK companies to grow their business in China through e-marketplaces
working with partners and private sector experts to provide peer to peer mentoring for UK companies seeking to export through e-channels
delivering a retail and brands campaign across relevant e-commerce platforms in the SFTZ
Shanghai Cross-border e-commerce Public Platform
The Shanghai Cross-border e-commerce Public Platform aims to share information and jointly solve problems such as:
counterfeit products
complicated customs procedures
cross-border foreign exchange settlement
exchange and refund
The platform links the regulatory bodies (customs, foreign exchange, inspection and quarantine, and taxation) with sellers, consumers, payment institutions, logistics companies, and a China e-Port Data Centre.
It was built by the Shanghai municipal government.
Further e-commerce agreements in China
The Bank of China will sign a Memorandum of Understanding (MoU) with UKTI in October 2015.
This will be followed by the release of a joint publication on China-UK cross-border e-commerce at a later date. This will lay the basis for extending the Shanghai e-commerce model into other pilot cities in China.
UKTI's e-Exporting Programme
By joining UKTI's e-Exporting Programme, UK retailers and brands can reach consumers overseas through e-marketplaces.
Published 24 September 2015