Guidance
Sell online with DIT's E-Exporting Programme
The Department for International Trade's (DIT's) E-Exporting Programme helps UK retailers and brands export their products overseas via e-commerce.
DIT's E-Exporting Programme provides e-commerce export related support to help UK companies grow their business by selling products or services to global online consumers.
UK retailers like Extreme Fliers, Burlingham London Watches, Faith in Nature and Urban Botanist are already taking advantage e-commerce opportunities.
Why sell online
Opportunities for online sales are huge and growing. By selling online UK companies can:
find new customers in overseas markets
do business 24/7
build brand awareness
access new markets in a low cost way
monitor real time sales and use data to make informed business decisions
Why join DIT's E-Exporting Programme
DIT's E-Exporting Programme helps UK companies who are:
new to selling online
already selling online, but need help with specific issues
experienced in online sales, but are looking to sell on multiple platforms globally
The programme enables you to:
arrange a free meeting through your local DIT office to get expert international trade advice and support
meet a DIT e-commerce adviser where relevant to help develop and implement an international e-commerce strategy
set up on marketplaces and identify new marketplaces around the world to sell through with our 'Selling Online Overseas' tool
access better than commercial rates to list on some marketplaces, including lower commission fees and 'try for free' periods
Selling through multiple channels
Managing e-commerce across multiple platforms can be challenging. Before considering taking a multiple platform approach you should determine which partner is likely to be most suitable by looking at your:
current sales volume
capacity for growth
Platform integration companies can link your product to global marketplaces using software enabling you to sell into multiple sales channels. A number of companies operate in this area.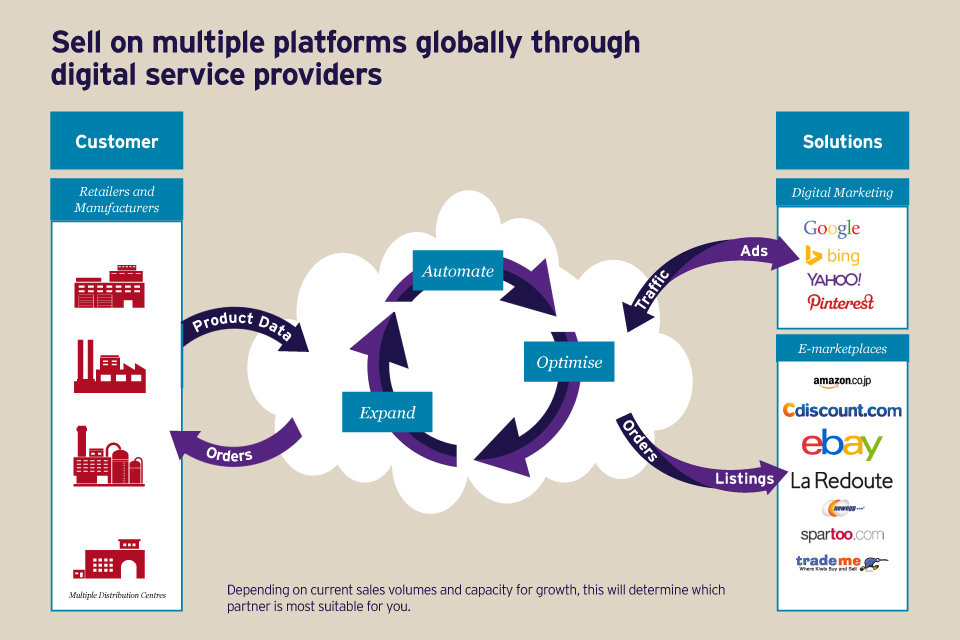 Marketplace opportunities for UK retailers and brands
An online marketplace provides a platform for retailers of all sizes to do business through e-commerce.
DIT works with a number of global marketplaces and, in some cases, have negotiated special deals. You can view which platforms have a discount in place for DIT clients by taking a look at our 'Selling Online Overseas' tool.
How to join DIT's E-Exporting Programme
Case studies
Retailers increase their export capabilities by selling online. Success stories include:
News
Further information
Sign up to DIT webinars on e-commerce.
Published 8 September 2014
Last updated 2 December 2016
+ show all updates
Added links to new selling online overseas tool.
Removal of ECBN information.
Added link to "e-Exporting to Korea - a guide for British companies".
Video link added.
Page updated with new list of e-marketplaces.
Added information on e-marketplace opportunities available to UK companies through UKTI
Includes information on UKTI's negotiated discounted rates for UK retailers and brands to list their products on some of the world's major e-commerce platforms and e-marketplaces. These include Amazon (US), Mercado Libre (Latin America) and Alibaba (China).
First published.