Grant Shapps has heralded the return of an 'age of aspiration' for those struggling to get their first foothold on the property ladder.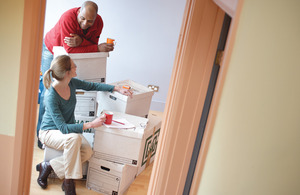 In his first speech since becoming Housing Minister, Mr Shapps insisted that the new coalition government would be "prepared to take the tough decisions needed" to tackle the Budget deficit and prevent rapid increases in interest rates - which would hurt both homeowners and those aspiring to enter the housing market.
At an event hosted by the Royal Institution of Chartered Surveyors, the minister highlighted the "quick and decisive action" already taken to help improve confidence in the market - including making Home Information Packs history.
And he outlined plans to scrap Regional Spatial Strategies and housing targets, and instead replace them with new incentives, so communities can see the benefits that new developments can bring to their area.
Grant Shapps said:
If we are really serious about supporting people's aspirations for home ownership, the real prize is we must build more homes. For the first time incentives will create direct benefits for local communities, bringing jobs, investment and more homes for local people.

Rather than being told what to build and where, residents of villages, towns and cities will be able to develop their own vision for their place. We'll introduce Local Housing Trusts, enabling communities to create new housing for local people.

By unleashing the aspirations of communities as well as individuals to build homes where and when they are needed, we will bring about greater certainty - certainty that will replace the conflict caused by imposing housing numbers from right here in Whitehall. Certainty that will give investors confidence to invest.
He added:
I believe that it is human nature to aspire to shelter and security - and for the many that means owning the roof over your own head. 

And I don't consider it my job as Housing Minister to hold those aspirations back.

With a new government and despite the enormous financial difficulties the country faces, I want to state clearly today: the 'age of aspiration is back'.
Published 8 June 2010