News story
Afghanistan's Chief Executive meets Sandhurst cadets
Abdullah Abdullah has praised Afghan cadets during a visit to the Royal Military Academy Sandhurst.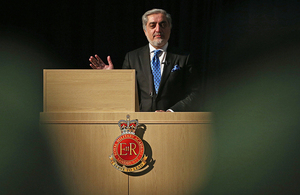 Mr Abdullah, who effectively serves as Afghanistan's Prime Minister under President Ashraf Ghani, began his visit with a short brief about the ethos of Sandhurst.
The Academy's principles have served as the basis for the Afghan National Army Officer Academy outside Kabul where British mentors work with coalition partners from Australia, New Zealand, Denmark and Norway to develop an Afghan officer corps.
Mr Abdullah then met with Afghan cadets. They discussed the rigorous training they undergo alongside their British colleagues, before addressing all of the officer cadets at Sandhurst in the Churchill Hall.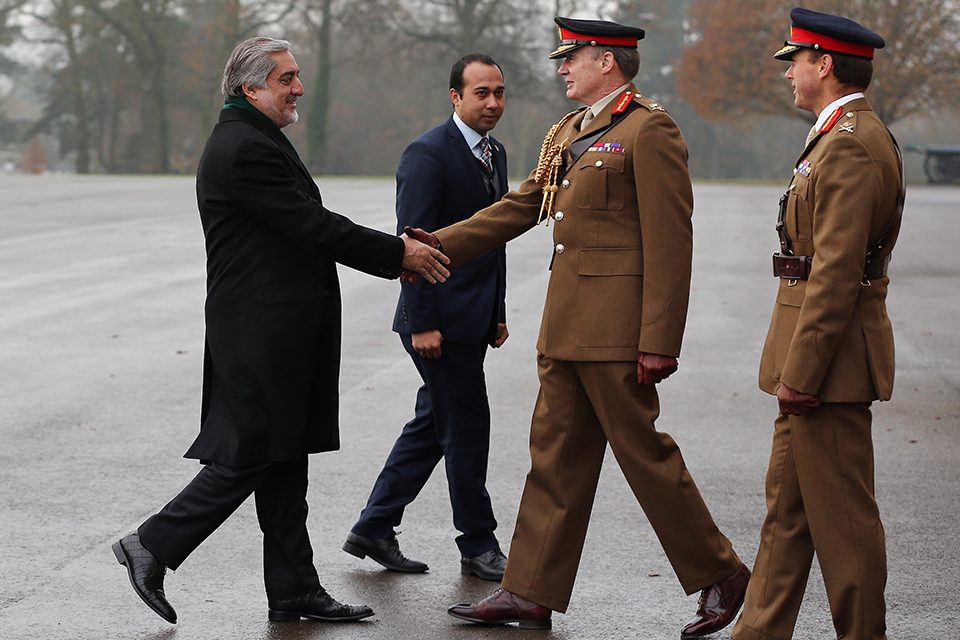 Addressing the audience at Sandhurst Mr Abdullah said:
I can't tell you how proud we are of our National Army and wider security forces and I thank you all here for Sandhurst's part in this.

It was gratifying to meet young cadets who will soon return to our country and serve our people having been prepared mentally and physically.

They will follow the values instilled here at Sandhurst and this will have a lasting effect on Afghanistan.

I want also to pay tribute to the sacrifices the British Armed Forces have made standing alongside Afghans.

It has stabilised our country and given us real hope for the future as Afghanistan begins to stand on its own.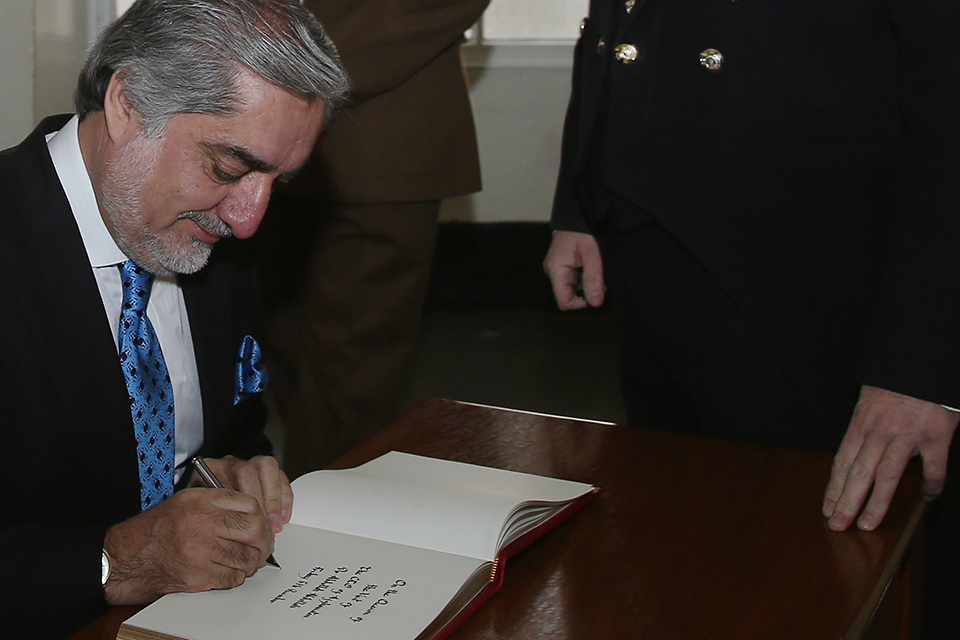 Royal Military Academy Sandhurst Commandant Major-General Stuart Skeates said:
It is a tremendous privilege to welcome Dr Abdullah Abdullah to Sandhurst.

His visit is a strong sign of our ongoing partnership with Afghanistan and the close relationship between the Officers Academy here and the Afghan Officers Academy in Qargha.

That facility is very much at the centre of our ongoing legacy in Afghanistan, ensuring that the Afghan National Army's future leaders are fully prepared for the coming challenges ahead.
Mr Abdullah, is in the UK to attend the London Conference on Afghanistan, jointly hosted by President Ghani and UK Prime Minister David Cameron.
Read more about the conference here.
Published 5 December 2014