News story
Afghanistan progress report for April 2013
Foreign Secretary William Hague has updated Parliament on progress in Afghanistan over the month of April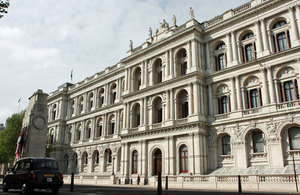 In a written statement to Parliament, the Foreign Secretary said:
"On 30 April, three UK military personnel were killed and six seriously injured when their Mastiff Armoured Vehicle struck an improvised explosive device while conducting routine vulnerable area checks in the Nahr-e Saraj district of Helmand Province.
"The insurgency launched its 2013 'Khaled Bin Walid' fighting season on 28 April to coincide with Mujahideen Victory Day. Reminiscent of previous years, there was a general increase in attacks across Afghanistan to mark the start of their new fighting season but these were largely ineffective. Our message to the Taliban remains that entering a peace process is a chance for Afghans to sit down together and help shape their country's future.
"The UK agreed to provide funding of up to £4.5 million to help strengthen women's political participation ahead of and during the 2014 presidential/provincial and 2015 parliamentary elections. Support will be provided for female candidates, including workshops and direct training, so that they can reach out to voters and improve their prospects in the 2014/15 elections.
"Tensions along the Afghanistan-Pakistan border continued throughout April. Afghanistan accused Pakistan of building up a border post on the Afghan side of the Durrand Line. In a military-to-military meeting on 15 April, the two sides agreed that new construction would halt and be dismantled.
"NATO Foreign Ministers met in Brussels on 23 April to discuss progress in planning for the post-2014 mission, the international community's commitment to a stable, secure and sovereign Afghanistan, and the pledge made at Chicago to fund the Afghan National Security Forces. Following the Foreign Ministers' meeting, US Secretary of State Kerry, Afghan President Karzai and Pakistani Chief of Army Staff Kayani held a trilateral meeting in Brussels on 24 April."
Further information
Read the full Afghanistan progress report for April 2013
Take a look at previous monthly progress reports on Afghanistan
Read more about the UK's work establishing stability in Afghanistan
Published 5 June 2013