News story
Afghan President visits Sandhurst
Afghan President Hamid Karzai yesterday visited the Royal Military Academy Sandhurst to see British Army officer training in action.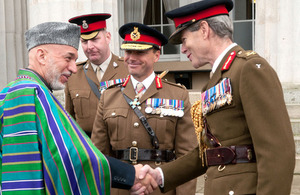 The ethos and training offered at the recently opened Afghan National Army Officer Academy (ANAOA) outside Kabul is based on that conducted at the British Army's world-famous officer training academy and, at Sandhurst, President Karzai had the chance to see this first hand.
President Karzai, who is currently on a 5-day visit to the UK, was welcomed at Sandhurst by a guard provided by representatives of a Gurkha Company before meeting 5 Afghan officer cadets who are training there. He learned more about the close relationship between Sandhurst and the ANAOA and how this model will help to sustain the ongoing progress being made in building a capable and professional Afghan National Army now and into the future, post-2014.
President Karzai concluded by watching officer cadets being put through their paces in the Sandhurst training ground.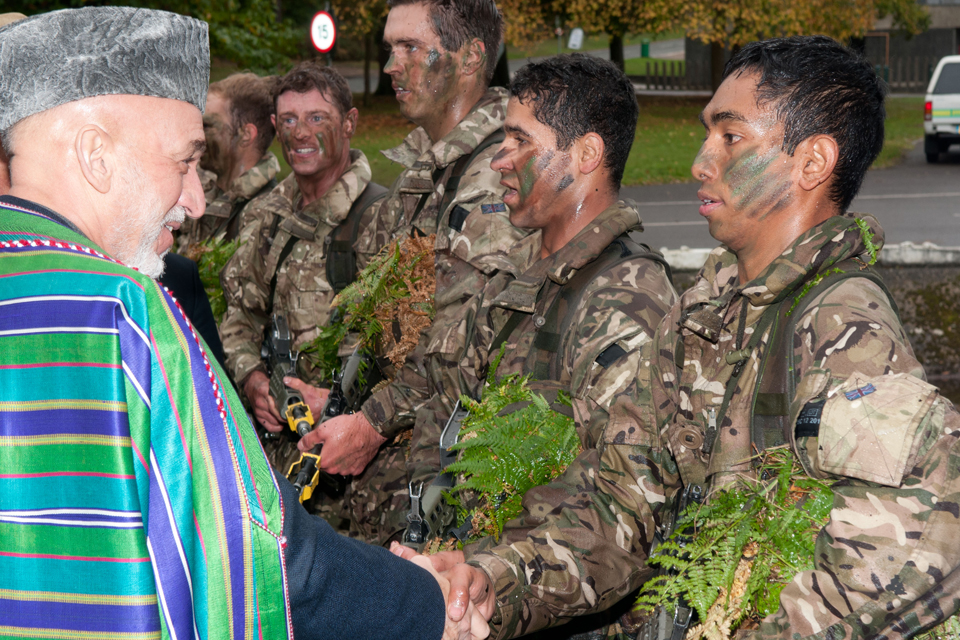 The visit followed a successful and productive bilateral meeting between the UK Defence Secretary, Philip Hammond, and the Afghan President in London, at which they discussed the continuing transition of security in Afghanistan to an Afghan lead. Topics covered included the continued support the UK will provide post-2014.
Defence Secretary Philip Hammond said:
I am delighted to welcome President Karzai to the UK and it's very fitting that over the course of his visit he has been able to see some of the exceptional military training conducted at the Royal Military Academy Sandhurst, the ethos of which is a cornerstone of how the first British-trained graduates of the new Afghan National Army Officer Academy will be delivered.

As well as being a key Afghan training institution which will shape the future of the Afghan National Army's leadership, the new Officer Academy in Kabul demonstrates the UK's longer-term commitment to Afghanistan beyond the end of our current combat operation.

President Karzai and I have enjoyed some very productive discussions about how we see this longer-term partnership progressing as Afghanistan's own cadre of officers grows and develops.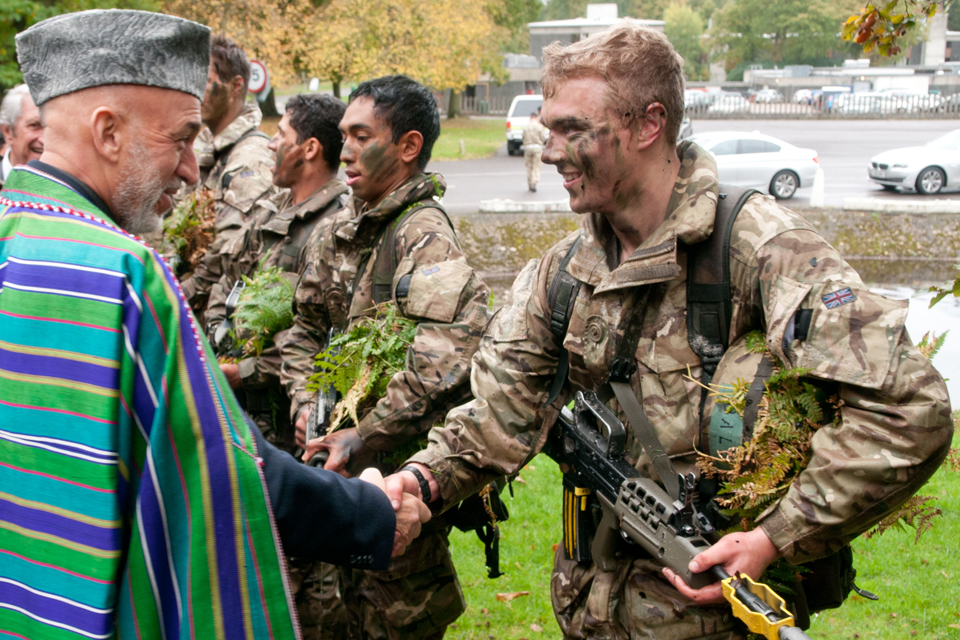 President Karzai said:
So often mentioned around the world for military excellence and training of the highest order, Sandhurst is truly a place any young person would like to attend.

I was delighted to see the excellent academic and practical training of young cadets.
President Karzai is in the UK primarily for the World Islamic Economic Forum and a trilateral meeting, held on 29 October between the UK, Afghanistan and Pakistan; the first since Pakistani Prime Minister Nawaz Sharif took office. At the meeting, the 3 leaders continued their dialogue about Afghanistan and Pakistan's shared interest in advancing regional peace, stability and prosperity. They also discussed economic co-operation and the Afghan-led peace process, to which they all reaffirmed their continuing commitment.
Published 1 November 2013