Afghan Peace and Reintegration Review Conference held in Kabul
On 10-11 May the Japanese funded Afghan Peace and Reintegration (APRP) Review Conference was held in Kabul.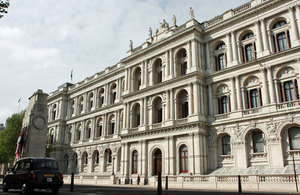 Minister Masoom Stanekzai (APRP Joint Secretariat CEO), and former President Burahuddin Rabbani, head of the High Peace Council acted as co-Chairs with participation from Japanese SRAP Tadamichi Yamamoto. As co-chairs with Japan of the reintegration working group of the International Contact Group the British Embassy supported the conference organisers.
The aim of the conference was to review the APRP implementation, achievements and challenges and to respond to urgent needs, with a view to enhance efficiency in implementation and program delivery. The conference attracted a high-level Afghan representation and provided a much needed opportunity for Governors, Donors, and Civil society to comment on the implementation of the programme.
The APRP achievements included the establishment of Provincial Peace Committees in 28 out of 30 provinces; the opening of 29 Provincial bank accounts so Governors could access APRP funds; 14 Provincial APRP Joint Secretariat teams have been set up to provide administrative and financial support.
Line ministries, as well as other government and non-government stakeholders, shared their experiences and presented their annual work plans, including proposals for quick impact, yet sustainable projects that address the most urgent needs in communities where reintegration is taking place.
The Joint Secretariat with support from ISAF, US, UK and Japanese Embassies and will now work together to ensure problems identified with the programme are resolved quickly and much needed support reaches the provinces.
Published 23 May 2011