Afghan National Army Officer Academy agreement
Prime Minister David Cameron and President Karzai sign Memorandum of Understanding for UK support for Afghan National Army Officer Academy.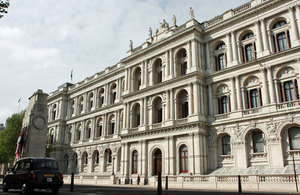 Prime Minister David Cameron and President Karzai have signed a Memorandum of Understanding for the UK to provide mentors and advisers for the Afghan National Army Officer Academy modelled on the Royal Military Academy Sandhurst in the UK.
At the signing ceremony, David Cameron said:
"I hope [the Academy] will be a lasting contribution from my country to the people of Afghanistan to help with the training and development of your officers and your army.
"We're building up Afghan forces so they can protect your citizens and keep out violent extremists once the international forces leave. We are strengthening democracy and governance so that all Afghans can play their part in developing a more prosperous country.
"And we're working with regional partners, because a stable Afghanistan is not just in the interests of Afghans, but in the interests of their neighbours too."
On 18 July, Mr Cameron visited British forces in Helmand Province, where he said he was impressed with the huge progress being made.
The Prime Minister also spoke about the post-2014 commitment to Afghanistan, and the political process. He spoke about the message the commitment sends to the Taliban:
"You cannot wait this out until foreign forces leave in 2014, because we will be firm friends and supporters of Afghanistan long beyond then."
And he talked about the vital role that Afghanistan's neighbours have to play, and the shared interests between Afghanistan and Pakistan. The Press Conference was held before a trilateral meeting with the Prime Minister of Pakistan Raja Pervez Ashraf.
Mr Cameron said:
"Over the last two months in Chicago and Tokyo, the international community has made clear our commitment to securing Afghanistan's future and prosperity for decades to come. We are here to work with you to transform the future together."
Published 19 July 2012