Advancing UK priorities in Trinidad and Tobago
Promotion of trade, security, sustainable development and environmental protection are the priorities for Foreign Office Minister Jeremy Browne's visit to Trinidad & Tobago.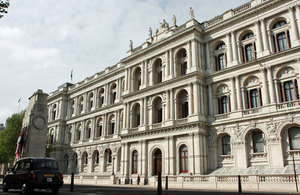 The Minister's visit will reinforce Britain's ties with a key Commonwealth partner.
Whilst in Port of Spain, the Minister will meet the Trinidad and Tobago's Minister for Foreign Affairs. He will attend a reception with key figures from the Olympic and Paralympic Committees as part of his ministerial portfolio for overseeing London's hosting of the Olympic and Paralympic Games in 2012.
Speaking ahead of his visit, Jeremy Browne said:
"I am delighted to be the first British Minister to visit Trinidad and Tobago under the UK's coalition government. The British Government is determined to strengthen its relations with Trinidad & Tobago, as one of our key Caribbean partners. We already share many values and work closely on the full range of international issues, including on security and climate change.
"The trade and investment relationship between our countries is a key theme for my visit. Trinidad & Tobago is the UK's largest export market in the Commonwealth Caribbean. We have a great deal to offer our overseas friends and allies such as Trinidad & Tobago in terms of goods and services. However, there is a huge amount of unrealised potential for further trade between our two nations. During my trip I will speak to business leaders directly to understand what the UK government can do to support increased trade and investment with Trinidad & Tobago."
Jeremy Browne MP, FCO Minister for the Caribbean, is visiting Trinidad & Tobago from 18-20 January 2011 as part of a Caribbean tour which also covers Barbados and Jamaica.
Published 19 January 2011