News story
Acting FAST can save hundreds of lives
A campaign set to save the lives of stroke victims from across the country launches today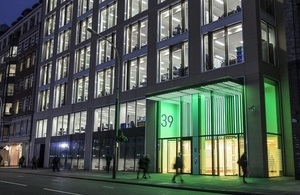 These hard hitting adverts, which will run until 25 March, aim to get people suffering from stroke to hospital as FAST as possible.
They will help people to identify the symptoms of stroke by acting FAST, people should look for:
Facial weakness - can the person smile? Has their mouth or eye drooped?
Arm weakness - can the person raise both arms?
Speech problems - can the person speak clearly and understand what you say?
Time to call 999
Latest figures show that the annual Act FAST stroke campaign has had a significant impact on patients receiving stroke treatment.
Last year alone, in the 2 months after the adverts finished running and people's awareness of the signs increased, the NHS in England saw a 24% rise in stroke related 999 calls, and a 16% rise in stroke sufferers being seen quicker following the campaign in 2011.
Health Secretary Andrew Lansley said:
"Stroke is the third leading cause of death in England each year and the leading cause of disability. The Act FAST campaign has proved it works and we are confident the Act FAST campaign will once again have a very positive impact for people suffering from stroke.
"Treatment for stroke is improving all the time, the majority of patients are being taken to specialist stroke units and latest figures show 83% see a stroke consultant within 24 hours. However, we are not complacent and are clear that more can be done to improve results for patients."
The TV adverts will help raise everyone's awareness, but specifically target adults aged 55+, who are most likely to suffer from a stroke and also the most likely to be stroke savers.
Published 27 February 2012