Press release
Accountants advised on helping clients to keep it legal
The CMA has today published information that will help accountants inform their clients of the importance of complying with competition law.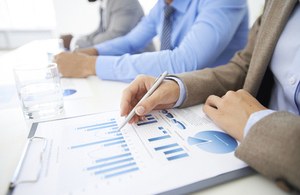 Accountants are trusted advisers for businesses of all sizes working across all sectors, so they are well placed to guide clients on where to look for legal guidance.
The Competition and Markets Authority (CMA) has created a 60-second summary which provides an introduction to competition law after working closely with the Association of Chartered Certified Accountants (ACCA) and The Institute of Chartered Accountants of Scotland (ICAS).
Judith Frame, CMA Head of Compliance, said:
Research shows that many businesses, particularly smaller ones, could benefit from having a stronger understanding of how competition law affects them. So, we are delighted to have worked in partnership with representatives of the accountancy profession (ACCA and ICAS) to develop this 60-second summary.

It explains the importance of competition in creating a level playing field for businesses and outlines where accountants can find more information on anti-competitive behaviours.

We hope this will help accountants put competition law on their clients' radars to help them avoid risks, and to benefit from competition.
Ken McManus, Head of Practice Support and International Services at ICAS, said:
Accountants are trusted advisers and as such are ideally placed to put competition law on the radar of business clients. Many businesses might be breaking the law without knowing it, with serious consequences. We've worked in partnership with the CMA to produce this quick guide and would encourage all accountants to make business clients aware of their duty to comply with competition law.
The summary draws attention to research which shows that 77% of businesses do not understand competition law well and outlines the potential penalties for breaking the law which can include fines of up to 10% of global turnover for businesses and a maximum 5-year jail term for individuals involved in cartels. Directors can also be disqualified for up to 15 years.
It also provides accountants with useful pointers on how to familiarise themselves with common competition law risks and recommends steps that any business can take to deal with such risks.
The resources can be found on the CMA's webpage and are promoted by the 2 professional associations to alert members of the profession to the advice that is available.
Notes for editors
The CMA is the UK's primary competition and consumer authority. It is an independent non-ministerial government department with responsibility for carrying out investigations into mergers, markets and the regulated industries and enforcing competition and consumer law.
ICAS is the leading professional body for more than 20,000 world class business men and women who work in the UK and in more than 100 countries around the world. Almost two-thirds of its membership work in business; many leading some of the UK's and the world's great companies. The others work in accountancy practices ranging from the Big Four in the City to the small practitioner in rural areas of the country.
For more information on the CMA see our homepage or follow us on Twitter @CMAgovuk, Flickr and LinkedIn.
Enquiries should be directed to Simon Belgard (simon.belgard@cma.gsi.gov.uk, 020 3738 6472).
Published 2 September 2015