A strong signal of British commitment to Brazil
Foreign Secretary William Hague participated in a press conference this afternoon with his counterpart Antonio Patriota in Brasilia.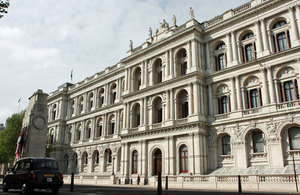 The full text of his opening remarks:
"It is a great pleasure to be here in Brazil at what I think is an optimistic and exciting time in the relations between our countries; and a dramatic period in world affairs. We have had extremely good talks. Of course we are used to speaking together regularly, but it has been very good to have the opportunity to spend some hours talking.
From nuclear proliferation to climate change, global economic governance to security issues, Brazil is a partner of growing and lasting importance to the United Kingdom.
I am here to send a strong signal of British commitment to our relationship with Brazil as well as of warm friendship towards your country and its people;
To pay tribute, as I will do in a speech tomorrow, to your remarkable achievements as a nation, and to explore the many opportunities for closer economic and social ties between our peoples;
And to discuss the pressing range of crises, challenges and opportunities in foreign policy where the Brazil's distinctive voice and contribution matter greatly.
We know that Brazil's role in world affairs is set to grow, alongside other emerging economies including others here in Latin America.
We strongly welcome this, and I was pleased to express again Britain's support for an expanded and more representative UN Security Council including permanent membership for Brazil.
We wish to forge a closer understanding between us on foreign policy as fellow democracies with so many shared values. This will lead we hope to greater practical cooperation across all the issues that matter to both our countries; respecting the fact that we approach some matters from a different perspective, but we should always be able to discuss them in a spirit of friendship and respect as we have today.
So Foreign Minister Patriota and I have had comprehensive, searching and productive discussions across a range of these subjects. I am very grateful to him for his time and his hospitality today.
We discussed the moment of opportunity in the Middle East, where we are seeing the greatest hope for the advancement of human freedom since the end of the Cold War, but also many problems and difficulties.
Both our countries are working bilaterally and through international organisations to support those countries in transition in the region such as Egypt, Libya and Tunisia, where we are in strong agreement about the importance of long term international support while respecting the wishes of the people of those countries.
We agreed that events in the region make progress towards a two state solution to the Israeli-Palestinian conflict more urgent than I ever, and I welcome the talks taking place in Jordan.
We share deep concern about the situation in Syria and welcome the essential role being played by the Arab League.
We spoke about Iran, where of course our countries agree that the consequences of nuclear proliferation in the Middle East would be highly dangerous. We are engaged in intensifying peaceful, legitimate pressure on Iran while being ready at any time to return to serious, meaningful negotiations.
And we discussed the importance of peace and security in the South Atlantic, to which Britain remains committed.
In Britain we are convinced that the best days in our relationship with your country lie ahead of us.
Our back-to-back hosting of the Olympics; our innovative and important cooperation in the fields of sustainable development and the environment - an important subject to address at the Rio 20+ meeting - ; the 10,000 Brazilian students who will study in the UK over the next four years under our 'Science without borders agreement';
our extensive commercial ties and increasing trade that are benefiting all our citizens; and above all our shared democratic values, give me and our government every hope and confidence in even better times ahead for the relationship with Brazil.
That is why I am here, and that is why we are increasing our diplomatic presence in Brazil, and we have recently opened a new consulate in Recife.
So in that spirit I thank Antonio Patriota, your Foreign Minister, and I look forward to continuing to work with him, and indeed to welcoming him in London whenever he is able to visit."
Published 19 January 2012