Press release
A phenomenal legacy for London 2012
The London 2012 anti-doping facilities will be developed after the Olympic and Paralympic Games into a world-class resource that could help revolutionise healthcare.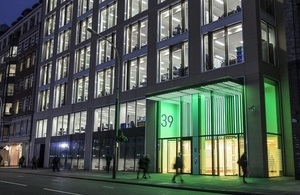 The MRC-NIHR Phenome Centre will use the cutting edge facilities developed for London 2012 to help develop better and more targeted treatment for patients.
The MRC-NIHR Phenome Centre, the first of its kind in the world, will enable researchers to explore the characteristics of disease in order to develop new drugs and treatments for patients.
A phenome describes a person's chemistry - all the molecules in their blood, urine or tissues - that are the result of their genetics and their lifestyle. This mixture of molecules is changing all the time and is influenced by factors such as diet, environment and even stress levels. It is linked to how a person responds to disease or to treatments such as drugs.
Researchers at the Centre will investigate the phenome patterns of patients and volunteers by analysing samples - usually blood or urine - very rapidly and on an unprecedented scale. This will help them to discover new 'biomarkers' to explain why one individual or population may be more susceptible to a disease than another. This knowledge will aid scientists in finding new, safer and more targeted treatments.
The new Centre will be funded over five years by an investment of £5 million each from the Medical Research Council (MRC) and the Department of Health's National Institute for Health Research (NIHR) and will build on and develop the state-of-the-art equipment and expertise of the London 2012 anti-doping facilities provided by GlaxoSmithKline (GSK) and operated by King's College London.
The MRC-NIHR Phenome Centre will enable the UK to make its world-class phenotyping technology and expertise available to both researchers and the life sciences industry to accelerate the translation of medical discoveries into better healthcare. The new Centre will be led by a collaboration of academic partners, led by Imperial College London, and the suppliers of nuclear magnetic resonance and mass spectrometry equipment (Bruker and Waters Corporation).
Professor Sir John Savill, Chief Executive of the MRC, said:
"The UK has an extremely strong life sciences capability and world-class expertise in this area of research. The GSK drug-testing facility at Harlow has taken one of the major challenges associated with this type of research - achieving high-throughput alongside forensic quality control - to a new level, unprecedented anywhere in the world. Rather than losing this investment once the Games are over, the collaboration - involving the MRC, NIHR, UK universities, the NHS and NIHR Biomedical Research Centres, and industry leaders in the field - will provide a unique resource that will ultimately result in benefits for patients. This is a phenomenal legacy from the Games."
Health Secretary Andrew Lansley said:
"Our investment in this new Centre, the first of its kind, promises better targeted treatments for patients with a wide range of common diseases such as diabetes, heart disease and dementia. Patients will benefit from faster and more accurate diagnosis and researchers will be able to develop new drugs and treatments as we understand more about the characteristics of diseases and new sub-types of diseases are discovered. Alongside our investment in genomics and gene-based centres, we will in coming years develop world-leading diagnostic capabilities."
Dame Sally Davies, Chief Medical Officer, said:
"This research Centre will transform our understanding of people's physical characteristics and disease, and enable us to pull through these discoveries into real benefits for patients. The advances that will be made by the researchers will help develop new treatments, including treatments specially tailored for the individual.  This has the potential to revolutionise the way in which we treat a wide-range of diseases."
ENDS
NOTES TO EDITORS:
MRC
For almost 100 years the Medical Research Council has improved the health of people in the UK and around the world by supporting the highest quality science. The MRC invests in world-class scientists. It has produced 29 Nobel Prize winners and sustains a flourishing environment for internationally recognised research. The MRC focuses on making an impact and provides the financial muscle and scientific expertise behind medical breakthroughs, including one of the first antibiotics penicillin, the structure of DNA and the lethal link between smoking and cancer. Today MRC funded scientists tackle research into the major health challenges of the 21st century.
NIHR
The National Institute for Health Research provides the framework through which the research staff and research infrastructure of the NHS in England is positioned, maintained and managed as a national research facility.  The NIHR provides the NHS with the support and infrastructure it needs to conduct first-class research funded by the Government and its partners alongside high-quality patient care, education and training.  Its aim is to support outstanding individuals (both leaders and collaborators), working in world class facilities (both NHS and university), conducting leading edge research focused on the needs of patients.
The new Centre will be funded over five years by an investment of £5 million each from the Medical Research Council (MRC) and the Department of Health's National Institute for Health Research (NIHR).
The anti-doping facilities are based in Harlow, Essex. GlaxoSmithKline (GSK) have provided the facilities and equipment to enable Kings College London to operate a World Anti-Doping Agency (WADA) accredited satellite laboratory at Games-time. The laboratory will be in operation 24 hours a day.
The MRC-NIHR jointly awarded a grant to scientists from Imperial College London who will lead on the venture and King's College London.
The magnetic resonance imaging equipment which is being used to test athletes at London 2012 will also be used at the Phenome Centre.
The following partners are in involved in the Phenome Centre:
Bruker: Dr Manfred Spraul, Director of Applied NMR business development at Bruker BioSpin GmbH, said:
"Based on long-lasting and very successful collaborations with Professor Jeremy Nicholson at Imperial (see below), Bruker is pleased to actively contribute to the new MRC-NIHR Phenome Centre and help revolutionise the understanding of the causes and mechanisms of disease. Nuclear magnetic resonance and hyphenated technologies, together with improved biofluids and tissue data analysis, will enable personalised phenotyping using top-down system biology tools combined with conventional clinical diagnostics and patient information. We consider the centre to be the crystallisation point for a future network of phenome centres around the world."
GlaxoSmithKline (GSK): Official Laboratory Services Provider for the London 2012 Olympic and Paralympics Games. Through a groundbreaking partnership with King's College London, GSK is providing the facilities and equipment to enable expert analysts from King's to independently operate a World Anti-Doping Agency (WADA) accredited laboratory during the London 2012 Games. The laboratory in Harlow will see more tests carried out than at any other Games, with every medallist who steps on the podium and up to 50% of all athletes being tested.
Patrick Vallance, President, Pharmaceuticals R&D at GlaxoSmithKline, said:
"Providing our laboratory facilities to this research collaboration allows GlaxoSmithKline to support cutting edge research. As a global pharmaceutical company with strong roots in theUK, we are committed to ensuring Britain retains a leading position in the life sciences. The MRC-NIHR Phenome Centre will deliver world-class science through collaboration between research institutes, academia and industry - an approach GSK believes is crucial to driving scientific innovation."
Imperial** **College, **London**: Based on its world-leading expertise in metabolic profiling and systems medicine, Imperial College London led the development of the original proposal to establish the MRC-NIHR Phenome Centre and will employ the staff trained to undertake the complex metabolic analyses.  In parallel, Imperial will be developing ways of analysing new classes of metabolites, generating novel informatics and computational analysis to interpret the data generated, and collaborating with the equipment manufacturers to train the next generation of phenome researchers and develop the technology further.
Professor Jeremy Nicholson, head of the Department of Surgery and Cancer at Imperial College London and Director of the MRC-NIHR Phenome Centre, said:
"The possibilities offered by the Centre are ground-breaking, as it will provide new ways of understanding the complex interactions between people's genes and their environment that determine their disease risks.   
"Metabolic profiling will give us a new dimension of understanding about the factors that contribute to disease, as well as crucial information for predicting how individual patients are likely to respond to treatment. The Centre will build on the critical mass of world-class phenotyping research expertise we have established at Imperial, and we look forward to strengthening this by working with public and private partners on the MRC-NIHR Phenome Centre."
King's College **London**: With a proven track record in world-leading analytical techniques, King's researchers at the Centre will focus on targeted metabolite analysis by mass spectrometry. By taking advantage of recent advances in molecular research tools, sensor technologies, "omics" platforms, and bioinformatics the King's team will provide a deeper understanding of the 'Phenome' - i.e. the sum of phenotypic traits characterising the individual. The aim is to deliver access to a world-class capability that will benefit the whole UK biomedical community.
Chris Mottershead, Vice Principal for Research and Innovation at King's College London, said:
'Understanding how our environment influences health and causes disease is hugely important, and we are delighted to play an integral role in the development of the MRC-NIHR Phenome Centre, which will work closely with our NIHR Biomedical Research Centres as they develop exciting new diagnostics and therapies.
'The new Centre will utilise and build on the advanced analytical technology, knowledge and skills we have brought to the anti-doping testing laboratory for the Olympic and Paralympic Games. We are pleased to continue to play a part in taking forward and building on this enduring legacy.'
Waters Corporation: Dr. Rohit Khanna, Vice President of Worldwide Marketing for Waters Corporation, said:
"Waters is proud to be part of this first-of-a-kind research centre and the opportunity to work with such distinguished partners in support of our mission: to develop technology that allows science to provide answers to the critical challenges we face. This centre is a significant advancement for the science of phenome-typing, enabled by a powerful partnership of leading academic institutions, government and companies like ours providing the latest innovations. We fully expect this centre will multiply our understanding of disease and help us to improve the health of populations around the world."
Waters Corporation is a leading developer of liquid chromatography, mass spectrometry and related chemistry and informatics technologies. These analytical tools are used in a broad range of industries to measure the chemical, physical and biological composition of materials.
Published 1 August 2012