News story
A new way to pay
Paying for medicines licences, clinical trials and clinical investigations is changing from 1 April the Medicines and Healthcare products Regulatory Agency (MHRA) announced.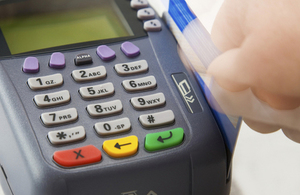 Instead of paying in advance, a new 'Pay on Invoice' process will streamline the way we manage a range of applications.
We are committed to reducing the regulatory burden and improving the process for licence applications.
From 1 April those making applications will no longer need to attach proof of payment making the end-to-end process simpler, easier and quicker.
The benefits of the new process include removing the need to work out complex fees and reducing the chance of applications being rejected for incorrect payment details.
Additionally the simplified payment process should result in fewer delays and make it easier for companies to reconcile financial records and accounts.
Overall the process is aimed at saving companies time and money.
Richard Humphreys, MHRA's Deputy Director of Finance said:
We have listened to our customers and launched this new project in order to make the process of payment much easier and quicker.

We hope the new process will reduce the regulatory burden and reduce unnecessary delays.

As with everything we do, we welcome your feedback.
If you have any questions please get in touch by emailing sales.invoices@mhra.gov.uk
Further information
There have been no changes to our payment terms and invoices must be settled on receipt of invoice. Penalty fees can be incurred for non-payment, details of the penalties are set out in the Fees Regulations. Non-payment may also result in suspension of any licence or authorisation, followed by legal proceedings for unpaid amounts, as a debt due to the Crown.
More information can be found here
Published 31 March 2017