A competition regime for growth
Government announces new proposals to create a single competition body, to boost growth and streamline processes for business.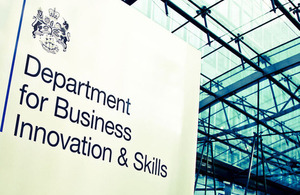 'A Competition Regime for Growth: a consultation on options for reform' sets out proposals to create a single Competition and Markets Authority by merging the competition functions of the Office of Fair Trading (OFT) with the Competition Commission (CC).
The proposals to strengthen and streamline the competition regime will boost the existing arrangement in a number of ways. This includes reducing the duplication of costs for business, and increasing industry confidence in the system.
The Government wants to stimulate growth by allowing the market to be dynamic and competitive. Ministers also want to empower small and medium businesses by giving them greater support in the system.
Proposals include:
Creating a single, powerful advocate for competition with The Competition and Markets Authority.

Increasing business confidence through faster decision making, ending duplication, and more predictability of competition processes and decisions.

Reducing barriers to entry by making it easier for the competition authority to tackle anti-competitive mergers; and reform anti-trust provisions to increase deterrence of anti-competitive and abusive behaviour.

**Delivering faster results for consumers, **with shorter end-to-end studies and investigations into markets where lack of competition is giving consumers a bad deal.

Reducing the SME burden, introducing an exemption for small mergers from the merger control regime.

Giving small business a voice: an extended supercomplaints process to spotlight market features that harm small companies.
Edward Davey said:
"The UK Competition Regime is regarded as one of the best in the world. But it can and should be even better. Competition is the cornerstone of growth, innovation and consumer choice. That means we also need to have a strong regime to promote effective competition in markets.
"This is an excellent opportunity to strengthen and streamline the competition regime to deliver better outcomes for consumers and increase business confidence and certainty. At the same time we are taking advantage of this chance of reforming it to assist small and medium enterprises. I hope that everyone interested in this consultation will take the time to respond to our proposals."
Links
Read Vince Cable's statement on the competition and consumer landscape
Published 16 March 2011