£90 million boost for the Great British Coast
Businesses and communities across the Great British Coast could be sailing towards a cash windfall.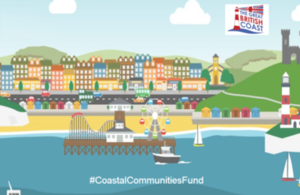 Businesses and communities across the Great British Coast could be sailing towards a cash windfall, ministers announced today (23 May 2016).
Creative coastal entrepreneurs can from today bid for a share of £90 million government funding available UK-wide over the next 4 years to support their plans to reel in jobs and revitalise our much-loved seaside areas.
This latest cash boost for coastal communities is all part of the government's efforts to rebalance the economy and help all areas of the country thrive.
Communities Secretary Greg Clark said:
Our Great British Coast has enormous economic potential and we are determined to see it thrive all year round.

That's why today we're investing £90 million in exciting new business ideas across our much-loved seaside areas – bringing not just a wave of enthusiasm but also creating thousands of good new jobs too.

And with grants of up to £4 million each available, I'd urge our coastal entrepreneurs and communities to get involved.
Communities Minister Mark Francois said:
Over the past few years we've seen a sea-change in investment across our Great British Coast – with today's £90 million building on the £120 million we've already pumped in.

This money is all about generating jobs and boosting businesses, so if you've got a good idea we want to hear from you.

We're rightly proud of our country's seaside past but this new money means that we can also look forward to its bright future.
Buoyed up business
Since 2012, the government has invested over £120 million in seaside areas through a dedicated Coastal Communities Fund.
From Bognor Regis to Bute and from Redcar to Rhyl, more than 200 businesses and regeneration projects have benefitted. These projects – everything from resurrecting railway lines to starting up sailing centres – are predicted to safeguard or create up to 18,000 new jobs.
And analysis has shown this has been money well spent with every £1 invested having the potential to create an up to £8 boost to our coastal economies.
Now a further £90 million is available over the next 4 years to help boost tourism, create jobs and provide quality training for local people.
Grants of between £50,000 and £4 million are available to a range of organisations including:
coastal community teams
charities
councils
development agencies
local enterprise partnerships
private sector companies
social enterprises
voluntary and community sector organisations
Previous projects to benefit from the Coastal Communities Fund include:
Blackpool City council, awarded more than £1.9 million to radically transform its iconic illuminations, with the potential to create up to 500 new jobs in the local area
The Three Harbours Association awarded more than £500,000 to renovate a dilapidated boat store on Cullen Harbour and turn it into a boating, kayaking sailing and diving school creating jobs and enticing tourists to the area
The National Coastal Tourism Academy, in Bournemouth, awarded £2 million to set up a Coastal Activity Park and train hundreds of coastal businesses across the country to become experts in attracting tourists
Hastings borough council, awarded £500,000 to improve the seafront and visitor attractions and amenities in Hastings, including bikes to hire, improved signage, information walks and trails and landscaping creating 260 jobs
Scarborough's historic market awarded £2.7 million to refurbish the market, create a hub for year round employment, an outlet for 30 new business entrepreneurs and a showcase for local food produce
The Welsh National Sailing Academy and Event Centre in Pwllheli, awarded £120,000 to create a venue which provides the beating heart of Welsh sailing and bring an extra 10,000 visitors in a year
Further information
The Coastal Communities Fund supports projects that will directly or indirectly create new jobs or safeguard existing jobs.
The Coastal Communities Fund is financed by the government through the funding equivalent of 50% of the revenues earned from the Crown Estate's marine activities in England and the devolved administrations.
Bids for the latest round in England will close on 30 June 2016.
Wales, Scotland and Northern Ireland applicants should prepare bids now for when their applications will open in early July.
Last year 118 Coastal Community Teams were set up to bring together local business, councils and individuals together to coordinate regeneration in their area. They will play a key role in shaping the next wave of successful Coastal Communities Fund bids.
On top of today's funding, over the past year more than £3.7 million has also been provided to help restore local seaside landmarks to their former glory through the Coastal Revival Fund.
Alongside these dedicated funds more than £700 million has been invested into coastal areas through growth deals. Geared towards making better areas to live and work investments have been made in transport infrastructure, broadband connectivity, flood defences and improving opportunities for local people.
Office address and general enquiries
2 Marsham Street
London
SW1P 4DF
Contact form https://forms.communit...
General enquiries: please use this number if you are a member of the public 030 3444 0000
If your enquiry is related to COVID-19 please check our guidance page first before you contact us - https://www.gov.uk/guidance/coronavirus-covid-19-guidance-for-local-government.

If you still need to contact us please use the contact form above to get in touch, because of coronavirus (COVID-19). If you send it by post it will not receive a reply within normal timescale.
Published 23 May 2016