Press release
8,800 extra spaces for busy trains on key routes
Commuter services in Birmingham, Bristol, Leeds, Manchester, Liverpool, Sheffield and Newcastle to get greater seats and carriages.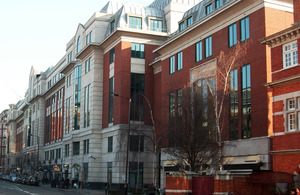 Space for up to an extra 8,800 rail passengers is being created on key commuter services in Birmingham, Bristol, Leeds, Manchester, Liverpool, Sheffield and Newcastle, Rail Minister Theresa Villiers announced today.
Under a deal funded by the government, passengers on Northern Rail are to benefit from an extra 22 train carriages. Separate agreements also deliver an extra six carriages to First Great Western and an additional 4 carriages to London Midland.
Theresa Villiers said:
I am delighted we have been able to finalise these important deals which will make a real difference to passengers. Even at a time when we are tackling the huge deficit we inherited, we are determined to invest in Britain's future. That is why we're committed to a major investment programme in our railways to deliver a big increase in capacity to ease crowding and provide commuters with more comfortable journeys.

Today's good news has been made possible by our plans to introduce 2,700 new rail carriages on to the network by May 2019.

We are also committed to the completion of the vital Crossrail and Thameslink projects in London and we are investing £900 million in rail electrification. In the longer term our plans for a high speed rail network will free up a huge amount of space on our current network for more commuter trains - with some towns potentially seeing a near doubling of services.

As well as improving life for passengers, these rail improvements will play an important role in strengthening economic growth.
The extra carriages, which will be in service from December 2011, are becoming available as a result of the planned deployment of 69 new train carriages which are being delivered to London Midland for use in the Birmingham area. This then allows for the carriages currently being used by London Midland to serve passengers using Northern Rail and First Great Western services. Consequently some First Great Western trains are to be released to serve Northern Rail passengers.
Further information
These interventions in total procure the operation of 32 additional carriages for these franchises and will deliver additional seats into Birmingham, Bristol, Leeds, Manchester, Liverpool, Sheffield and Newcastle from December 2011.
They principally do so through the use of carriages that will be released from service in the London Midland (LM) franchise due to the deployment of new Class 172 DMUs. In addition, Northern are also receiving 14 additional carriages from First Great Western (FGW).
The change in rolling stock for each franchise under these agreements is as follows:
LM will retain 6 Class 150 carriages (but release two x Class 153 carriages to FGW)
FGW will receive 4 Class 150 carriages (and 2 x Class 153 carriages from LM)
Northern will receive 8 Class 150 carriages from LM and 14 x Class 142 carriages cascaded from FGW
There are 8 Class 150 carriages becoming surplus in London Midland which are not covered by the agreements with these TOCs. These trains are non-standard units that may subsequently be sought by another TOC, PTE or local authority for additional services.
The total cost of this investment is £16.7 million. This covers the net cost of additional passenger services until the end of each franchise.
The following table shows the total planned seating and standing increases for each city each day resulting from these extra carriages and related changes. These are the combined figures for the three-hour morning and evening peak periods.
| | | | |
| --- | --- | --- | --- |
| Birmingham* | Bristol | Leeds | Manchester |
| 3,276* | 1,305 | 1,285 | 2,103 |
| Liverpool | Sheffield | Newcastle | Total |
| 150 | 592 | 137 | 8,848 |
*Subject to a proposed change to the Service Level Commitment currently being consulted by London Midland being approved.
The figure given for Birmingham is that which would apply if a proposed change to the Service Level Commitment is approved. This change is currently being consulted on by London Midland. If the change is not approved a lower increase in capacity would apply in Birmingham.
Rail media enquiries
Media enquiries 020 7944 3021
Out of hours media enquiries 020 7944 4292
Switchboard 0300 330 3000
Published 10 August 2011