Press release
£755 million to double free childcare offer for 2-year-olds
Councils will receive £755 million to provide 15 hours a week of free childcare for the most disadvantaged 2-year-olds from September 2014.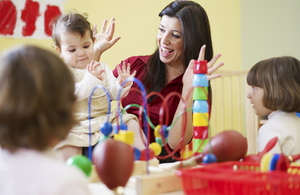 Councils are to receive £755 million of government funding to provide 15 hours a week of free childcare for the most disadvantaged 2-year-olds from September next year.
Today's money will double the number of children eligible for free early learning from 130,000 children to over 260,000 - around 40% of 2-year-olds - equipping them with the vital skills they need to be successful in life.
A new online guide, also launched today, will enable parents and providers to see how many 2-year-olds in their local area are eligible for free places, right down to their postcode. This will encourage existing childcare providers to expand and encourage new entrants into the market - creating greater choice and flexibility for parents and making it easier for them to access the childcare and early education services they need.
Announcing the new funding, Education and Childcare Minister Elizabeth Truss has urged councils to use the money to make the best use of their existing facilities - such as school nurseries and childminders - to increase the number of high quality places which offer childcare from 8am to 6pm and fit with the demands of modern, working life.
The Deputy Prime Minister, Nick Clegg, said:
I want to give children the best possible start in life to get them ready to learn, progress, and aim high.

All too often a child's journey in life can be mapped out for them before they've even set foot in the classroom. That's why investing in early education for children will give them the chance to start school on an equal footing with their peers. From September 2014, the number of 2-year-olds who receive free childcare will double, giving 260,000 children access to high-quality childcare that can make a real impact to their lives.

Parents, local authorities, nurseries and childminders should all be taking the opportunity to take up the offer their children are entitled to, make sure places are available and expand local childcare provision. Every child deserves the chance to get ahead and get on in life, regardless of their background, financial situation or family set-up. This £755 million will help even more children and families.
Education and Childcare Minister, Elizabeth Truss, said:
More than 260,000 2-year-olds will be eligible for early education - a massive increase on the 20,000 children accessing free early learning in 2010.

I want parents to get the early years support their child is entitled to where they want it and at a time they need it. They would be able to access childcare in blocks of 3 or 5 hours to suit their working lives.

Encouraging school nurseries to open from 8am to 6pm rather than 9am to 3pm and passing on funding to good and outstanding childminders will help offer places at the times we know parents need them. We have already made it easier for childminders to access funding for 2-year-olds, and I want councils to pass more money down so parents are able to access the home-based flexible childcare that many prefer.
The government wants to increase the number of places for disadvantaged 2-year-olds, while expanding childcare and early years provision in ways which make it easier for families to find childcare and early years education that works for them and makes the best use of facilities locally.
We want to see more schools expanding their nursery provision and delivering the fully funded early education places for 2-year-olds, as well as offering additional hours of childcare at an affordable cost to parents.
We also want to see more good and outstanding childminders providing free places for 2-year-olds. We have recently improved access to funding so good and outstanding childminders are automatically able to offer funded places - increasing the number eligible from 4,000 to 32,000.
Today's funding will be provided to local authorities at a national average rate of £5.09, adjusted for the area's average costs. This compares favourably to the Daycare Trust (now Family and Childcare Trust) Cost Survey 2013 which showed that the average hourly childcare fee in England was £4.26 per hour for children aged 2 and over, and will enable good and outstanding schools, nurseries and childminders to provide high-quality early learning.
Figures published recently reveal that within just 1 month of this year's scheme being launched, over 90,000 children are already benefitting from the scheme - a huge increase on the 20,000 children accessing early education in 2010. Parents also benefit from greater flexibility in how they split their 15 hours, and are able to take blocks over 2 or 3 days rather than 3 hours per day for 5 days.
In future, funding to councils will be based on a 'use it or lose it' basis, meaning the number of participating children will determine the amount of funding they get. Where parents are not taking up the places, local authorities will get less money.
Notes to Editors
Details of the funding breakdown for the 2-year-old early education programme for lower income households for the 2014 to 2015 financial year.

Take a look at the new online guide which allows parents and providers to see how many 2-year-olds are eligible for free places in their area on the allocations page.

The government is allocating funding at an average hourly rate of £5.09 per child for the statutory 2-year-old places. According to the Daycare Trust Childcare Costs Survey 2012, the average hourly rate for childcare fees in England is £4.13 per hour for under 2s.

A number of school nurseries are already successfully delivering 8-6 provision including:
Bourne Abbey Church of England Primary School, Bourne: Bourne Abbey Primary School is an academy converter offering childcare for children aged 2 years to 11 years between the hours of 7.30am and 6.00pm; the care takes the form of a breakfast club, kindergarten and after-schools kids club - there are 23 places available, with 7 funded 2-year-old places from January 2014

Parbold Douglas C of E Academy, Wigan: Parbold Academy offers care for children from the age of 2 from 7.45am to 6.00pm year round, led by 2 full- time early years teachers

Oakwood Primary Academy, Eastbourne: Oakwood Academy offer childcare between the hours of 8.00am and 6.00pm for children aged between 2 years and 11 years

St Bede's Primary Academy, Bolton: St Bede's Academy currently runs a private nursery (for age range 0 to 5years) on site as well as a maintained nursery (age 3 years to 5years) - the private nursery runs from 7.30am to 6.00pm; and the maintained nursery children have access to the school's breakfast and after school club (7.30am to 6.30pm)

Medlock Primary School, Manchester: Medlock is a Community School currently offering 12 places for 2-year-olds between the hours of 8.00am and 6.00pm - the service is run by the school and takes the form of a nursery, breakfast club and after school club (providing tea)

Bensham Grove Community Nursery School, Gateshead: Bensham Grove offers care for children from the age of 2 years old from 8.00am to 6.00pm year round - the nursery is run in partnership between the school and 4Children

Ephraim Early Years Nursery School, Southwark: Ephraim Nursery School is affiliated to Harris Academy Peckham and the Harris Primary Free School - Ephraim offers child care for children aged 1 to 8, with 12 places for 2-year-olds between the hours of 8.00am and 6.00pm - the primary school and provider work together to offer the service

The Ark Alpha Nursery, Portsmouth: run by the Ark Ayrton Primary Academy, Ark Alpha offers child care for children aged 3 months to 5 years from 7:30am to 6:00pm, Monday to Friday, 51 weeks of the year; they also offer government funded early education for children aged 2, 3 and 4 years
DfE enquiries
Central newsdesk 020 7783 8300
General enquiries 0370 000 2288
Published 18 December 2013