News story
£51 million contract for new troops' homes
A major contract to build new homes for soldiers and their families returning from Germany has been announced today.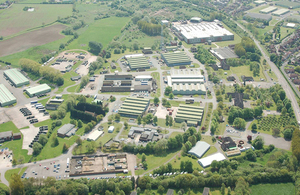 The £51 million contract, announced by Defence Minister Dr Andrew Murrison, will see the construction of 346 new homes at Beacon Barracks in Stafford, and is a step towards establishing the town as one of the Army's 7 major concentrations of manpower.
It follows the announcement in October 2013 of a £100 million contract to carry out a major redevelopment of the barracks.
Stafford will be the new home of 2 signal regiments returning from Germany, bringing 3 signal regiments together on one site.
The homes should be completed by the summer of 2015 when troops from 16 Signal Regiment and the 1st (United Kingdom) Armoured Division Headquarters and Signal Regiment will move to Beacon Barracks, allowing for the closure of Rhine Garrison by the following March.
Dr Murrison said:
This significant investment in Stafford further demonstrates that we are determined to provide the best possible accommodation for our soldiers and their families.

Bringing troops back from Germany will save more than £350 million a year in running costs, make best use of the defence estate and provide a boost to the UK economy.
The contract was today awarded to Lovell Partnerships Ltd by the Defence Infrastructure Organisation (DIO), which manages and maintains land and property for the Ministry of Defence.
The investment is in addition to the £1.8 billion announced last March by the Defence Secretary, Philip Hammond, for the regular army basing plan, which will see 15,000 personnel return to the UK from Germany by 2020, £20 million of which will be spent in the West Midlands.
Under the basing plan, Stafford will become one of 7 major army concentrations, along with Salisbury Plain in Wiltshire, Edinburgh and Leuchars in Scotland, Catterick in North Yorkshire, Aldershot in Hampshire, Colchester in Essex, and the East Midlands.
DIO project manager Stuart Gallacher said:
DIO's priority is to support the armed forces as they prepare for operations and providing good quality living accommodation is one of the ways we can do this. We are pleased to announce the award of this contract to Lovell Partnerships Ltd and look forward to working together on this exciting project.
David Gough, regional director for Lovell, said:
This is a landmark project win for Lovell, and we are looking forward to working on such a prestigious scheme with the DIO.

The tendering process was extremely rigorous but I believe it allowed us to demonstrate the uncompromisingly high standards we always demand of ourselves.

We are looking forward to getting started in the spring on providing these outstanding new homes for our armed forces personnel and their families.
Published 10 January 2014