Press release
£50m UK support to Lebanon as refugee numbers soar
International Development Secretary visits Lebanon and announces further aid for Syrian refugees.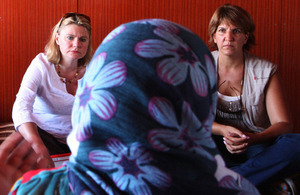 Spiralling Syrian refugee numbers could overload Lebanon's stretched infrastructure and heighten regional tensions, International Development Secretary Justine Greening warned today.
Ms Greening was speaking during a visit to Lebanon, where she saw first-hand the impact of ongoing violence in Syria both on refugees and host communities. She announced that the UK will allocate a further £50 million to help both Syrian refugees in Lebanon and Lebanese people affected by the crisis.
This support comes from the £175 million in new funding that the Prime Minister announced at the G8 last month. The £50 million will help to meet emergency food and shelter needs for the 585,000 refugees already in Lebanon and will also help strengthen the infrastructure needed to cope with a growing number of refugees.
Justine Greening also called on the international community to ensure that girls and women did not become victims of the crisis twice over, as financial hardship exposed them to exploitation and abuse. Seventy per cent of refugees are women and children and an estimated one in ten female refugees has experienced some form of violence.
Speaking from Lebanon's Bekaa Valley, she said:
The number of refugees in Lebanon looks set to double by Christmas. That means that a country half the size of Wales will be hosting over one million refugees. I pay tribute to the generosity of the Lebanese people but this is now a crisis for the region, not just for Syria, and we have got to deal with that reality.
On top of that, a shocking one in ten female refugees has suffered violence. I am determined that we must all do more to ensure that we do not lose sight of their particular needs in this wider crisis. Keeping people safe and preventing violence has to be a top priority.
Lebanon now hosts more refugees as a percentage of the population than any other country in the world, with nearly 3,000 more arriving daily. This is creating tensions around the availability of housing and putting pressure on Lebanon's education and health care systems, as well as water, sanitation and other infrastructure.
The new support from the UK will provide immediate, life-saving help including food and shelter to vulnerable Syrian refugees. Other initiatives could include cash for work programmes for both refugees and vulnerable Lebanese and livelihood protection programmes with vaccinations and feed for Lebanese livestock owners.
A percentage of the new support will also be used for longer term initiatives that will bolster Lebanon's ability to cope with the growing numbers of refugees. This could include subsidising basic structures and services at a local government level through partner humanitarian agencies. Examples might include support for primary health care centres and counselling services; help with repairing school buildings and training new teachers; or repairs and improvements to water and sewage infrastructure.
Exact details of how the new funding is to be allocated will be finalised in the weeks ahead. But given that the poorest parts of Lebanon are hosting the highest concentration of refugees, these new measures would benefit the most vulnerable, both Syrian refugees and poor Lebanese alike.
Whilst in Lebanon, the International Development Secretary visited an informal settlement hosted by Save the Children Lebanon and a food voucher distribution centre operated by World Vision under the World Food Programme. She was accompanied by UNHCR's representative in Lebanon, Ninette Kelley, Save the Children Lebanon's Country Director, Sonia Zambakides, World Vision National Director Anita Delhass-Van Djik, and World Food Programme Head of Operations Lynne Miller.
Justine Greening also met with caretaker Prime Minister Mikati and caretaker Minister of Social Affairs Abu Faour, where she reiterated the UK's continued commitment to supporting Lebanon as it responds to the ongoing Syrian crisis.
Notes to editors
The UK has already provided £19.4 million to support the refugee response in Lebanon, including support to provide 20,000 refugees with food vouchers, water and sanitation services to close to 80,000 people and education for close to 70,000. Total UK humanitarian support to Lebanon will now be over £69 million ($100 million).
Syria is the worst humanitarian crisis in recent memory, with millions living in desperate circumstances inside the country and millions more affected in the region. By the end of this year, as many as ten million Syrians could be displaced from their homes.
The UK has so far directly committed £348m to the Syria crisis to provide support including food, medical care and relief items for over a million people. This is the largest amount we have ever contributed to a humanitarian crisis.
Inside Syria, UK support has provided food for over 132,000 people, essential items such as cooking sets, blankets and mattresses to over 200,000 people and medical consultations to over 244,000 critically injured and sick people.
UK support in the region includes food for 110,000 refugees in Jordan, safe drinking water and sanitation services to almost 100,000 people in Jordan and Lebanon.
For a full breakdown of the UK's humanitarian response to the Syria crisis, please visit: https://www.gov.uk/government/news/syria-the-latest-updates-on-uk-aid
Published 9 July 2013
Last updated 18 July 2013
+ show all updates
Updated with added link to PDF summary of the UK's humanitarian response to the Syria crisis (correct as of 15 July 2013).
changed Save the Children International to Save the Children Lebanon
Updated with related photograph.
First published.