£50m saved in Whitehall blitz on environmental waste
Nearly £50m has been saved in Whitehall over the last year after efforts to tackle greenhouse gas emissions, waste and water consumption.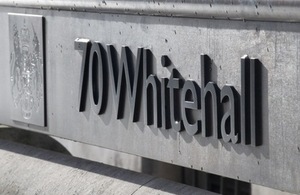 14 December 2012
Nearly £50m has been saved over the last year following a Whitehall blitz on greenhouse gas emissions, unnecessary waste and water consumption, announced Oliver Letwin, the Minister for Government Policy, and Owen Paterson, the Secretary of State for the Environment.
The Department for Environment Food & Rural Affairs (Defra) and Cabinet Office today publish the first progress report on the government's commitment to procure sustainably and reduce its greenhouse gas emissions, waste and water consumption. 
Actions taken by departments will deliver savings of nearly £50m for the taxpayer compared to 2009/10 figures.
Compared to 2009/10 figures, in 2011/12 the government has delivered:
a 12% reduction in greenhouse gas emissions, estimated to save the tax payer £40m  
a 36% reduction in domestic flights, already exceeding the government's target of 20% by 2015
a 5% reduction in waste, delivering £4.7mn savings
a 24% cut in paper consumption, far exceeding the government's target of 10% with all departments reporting a reduction in paper use
a 3% fall in water consumption, saving the taxpayer £4.2m
Some of the ways in which these savings have been achieved include:
Department for Energy and Climate Change installing a dedicated 16kW chiller for its server room which had previously been cooled by two 60kW chillers, this is on track to save 80 to 90 tonnes of carbon per year.
Installation of a new biomass boiler system at BIS's Companies House saving £30,000 per year on heating bills and delivering carbon savings of 227 tonnes per year. 
Home Office implementing formal restrictions on staff travel and extending teleconferencing facilities to all staff, contributing to a 42% reduction in domestic flights as well as ensuring more efficient use of staff time.
HM Revenues and Customs (HMRC) encouraging customers to complete tax returns online and using text messages for alerts have contributed to a fall in paper use by 30 million sheets in 2011/12, saving £297,000 as well as cutting carbon associated with printing and distribution by 760 tonnes.
Defra implementing a range of measures in washrooms including flow restrictors on taps, toilet flush restrictors and waterless or low flush urinals which have delivered around £25,000 per year saving and contributed to a 23% reduction in overall water consumption.
HMRC setting up an innovative Closed Loop paper recycling scheme, which works by collecting waste paper from government offices to be reused as desktop-quality 100% recycled paper. It is being adopted by increasing number of government departments, as well as private sector customers including McDonalds and Virgin Media, and could lead to the creation of a dedicated paper recycling mill in the UK.
Oliver Letwin, Minister for Government Policy, said:
Britain is in a global race and Whitehall cannot afford to waste a single penny so I'm pleased to see the way departments have responded to our challenge to cut their environmental waste, benefiting both the taxpayer and the environment itself.

We made a bold commitment to be the greenest government ever and whilst there is still a long way to go on saving money and energy usage, today's progress report shows we are on track to make that a reality.
Owen Paterson, Secretary of State for Defra, said:
Our £50 million saving is proof to all UK businesses that protecting the environment can also lead to increased profits. UK businesses can save £28 billion a year by using resources wisely.  This government is practising what it preaches, leading the way in cutting carbon emissions, making more efficient use of resources and saving taxpayers' money.
The report can be found at:
http://www.defra.gov.uk/publications/2012/12/14/pb13846-greening-government-commitments/
Notes to editors
The Greening Government Commitments (GGCs) were published in February 2011 and are the UK government's commitments for delivering sustainable operations and procurement for the current parliament (to 2014/15 from a 2009-10 baseline).
The targets (measured against a 2009/10 baseline) include:
Reducing greenhouse gas (GHG) emissions by 25% by 2015
Cutting domestic business travel flights by 20% by 2015
Reducing the amount of waste generated by 25% by 2015
Cutting paper use by 10% in 2011/12
Embedding sustainable procurement into government and departmental contracts by 2015.
The scope covers 21 central government departments, their executive agencies, executive non-departmental public bodies and non-ministerial government departments in England.
Progress against GGC targets are reported by each department quarterly.
Delivery of the commitments is overseen by a cabinet sub-committee co-chaired by the Minister for Government Policy and the Secretary of State for Defra.
At the start of the year, Cabinet Office published new data on property as part of the government's transparency drive. As well announcing savings of over £100mn in 2011/12, this information showed the sheer breadth of the central civil estate and includes information on the number, location and size of properties as well as detailed usage statistics  - such as space, cost and water and energy consumption per employee.
Published 14 December 2012