Press release
£500,000 flooding support for rural communities
New funding for six rural areas making it easier to apply for flood protection.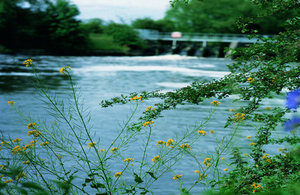 Six rural areas are to receive a share of a half-a-million pound fund making it easier for them to apply for flood protection, Floods Minister Rory Stewart announced today.
The 'Pathfinder Projects' pilot schemes will look at cutting red tape and costs for small communities at risk of flooding across the country.
Each pilot will support local authorities in developing innovative ways to apply for funding, combining smaller projects into larger and more effective flood risk management packages for each area.
Floods Minister Rory Stewart said:
We are investing in flood protection across the country at record levels, with an unprecedented six-year commitment of £2.3 billion to better protect an additional 300,000 homes by 2021.

These pilots will make it easier for local authorities to apply for flood protection funding so they can better protect people's homes and businesses. Our rural and small communities will also have the opportunity to play a key role in developing these schemes.
The local authorities receiving funding to investigate and assess options are:
Northamptonshire County Council
Addressing flood risks in parts of Daventry, Helmdon, Grimscote, Cogenhoe, Quinton, Grendon and Grafton Underwood.
Buckinghamshire County Council
Addressing surface and ground water risks in four locations in Buckinghamshire and will support projects in Bishopstone, Saunderton/Bradenham, Hughenden Valley and Monks Risborough.
Kirklees County Council
Addressing a range of surface water risks for communities within Honley, Moldgreen, Huddersdfield and Kirkburton.
Warwickshire County Council
Developing and assessing a package of flood risk management measures for groups of properties in small communities in Warwickshire.
Hampshire County Council
Addressing a combination of ground, surface and river flood risks in the county. The project will explore possible solutions for communities near Andover, in Vernhan Dean, Upton, Hurstbourne Tarrant, Stoke and St Mary Bourne.
Lancashire County Council
Addressing largely surface water and ordinary water course flood risks The communities being considered are within Whitworth, Stackstead, Strongstry, Rawtenstall and Cloughfold (all in Rossendale) and Ewood Bridge.
More information
Once these trials have taken place, local authorities will report on their findings and will then have the opportunity to apply for funding from the Government's £2.3bn six year flood defence programme.

The results from these trials will be shared with other local authorities and allow them to use similar approaches when developing schemes which benefit small communities.

The Pathfinder scheme enables communities at significant or greater risk of flooding to work with key partners, including local authorities, to develop innovative local solutions that:
enhance flood risk management and preparedness in ways which quantifiably improve the community's overall resilience;
demonstrably improve the community's financial resilience in relation to flooding; and
deliver sustained improvements which have the potential to be applied in other areas.
Please visit 2010 to 2015 government policy: flooding and coastal change for further information on the schemes.
For more information on this press release, please contact Defra's press office on 020 7238 1542 or out of hours on 0345 051 8486.
Published 29 July 2015