£50 million to help pupils get ready for secondary school
The Deputy Prime Minister announces a new summer school programme for disadvantaged pupils who are due to start secondary school.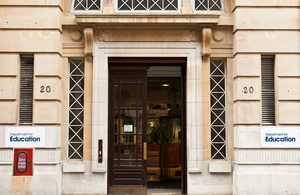 The Deputy Prime Minister today announced a new £50 million pupil premium summer school programme to help the most disadvantaged pupils make the transition from primary to secondary school. The scheme will benefit up to 100,000 pupils per year. They will benefit from two weeks of additional teaching through the scheme.
Pupils can struggle to make the jump to secondary education. Moving to a larger school and having to tackle a more challenging curriculum can be daunting for some pupils and they can suffer as a consequence. This results in a dip in their performance, which can persist throughout their time at school.
The new summer schools will allow schools to pick the pupils in danger of falling back and provide them with two weeks of support and catch-up, so that they start secondary school ready to learn.
All pupils eligible for free school meals who are making the transition between primary and secondary school in September 2012 will attract the extra funding. Schools will make a judgement on which pupils need extra support in making the transition.
Deputy Prime Minister, Nick Clegg, said:
Too many pupils experience a dip in performance when they start secondary school. More worryingly, pupils from the poorest backgrounds are the most likely to struggle, meaning that they can underperform throughout their time at school.

What matters is how hard you work and the skills and talents you possess, not the school you went to or the jobs your parents did.

Our new summer school scheme will allow schools to provide support to those pupils most at risk of falling behind. It simply isn't fair to ignore them, and that is why this Government is intervening to ensure that pupils from the poorest background have the opportunity to succeed.
Michael Gove, Education Secretary, said:
The mission of this coalition government is to make opportunity more equal. We want to take every step to achieve that.

These summer schools are designed to offer additional help to those in need at a crucial time. Nick Clegg is to be applauded as a champion of new ideas to drive forward social mobility.
The Government is making up to £50 million available in 2012/13 for this activity. This will be part of the overall Pupil Premium funding which is being significantly increased next year to £1.25 billion. The remaining £1.2 billion will be allocated per pupil and more detail will be set out in the 2012/13 school funding settlement that we will publish later in the autumn.
There is evidence that summer schools can have a positive impact on students. Summer schools will provide an opportunity for pupils moving up to secondary schools to get additional support tailored to their needs and based on evidence of what will have the greatest benefit before they arrive at their new school.
This scheme is part of the Government's efforts to narrow the gaps in attainment between those from poorer backgrounds and their better off counterparts. As highlighted in the Government's social mobility strategy, these gaps in attainment emerge early and widen as children get older.
 Notes to editors
The pupil premium budget for 2011/12 is £625 million.

Sarah Teather, Minister of State for Children and Families, recently announced the pupil premium budget for 2012/13 will be £1.25 billion. The £50 million will be funded from this amount.

The schemes will run from 2012/13 and then continue every year.

£50 million will be provided to schools through the pupil premium to run summer schools in summer 2012.
DfE enquiries
Central newsdesk - for journalists 020 7783 8300
General enquiries - for members of the public 0370 000 2288
Website: www.education.gov.uk/help/contactus
Published 5 March 2013