Press release
£5 million transport boost drives green growth in Tyne and Wear
£5 million of government funding for carbon-cutting, growth boosting local transport scheme in Tyne and Wear.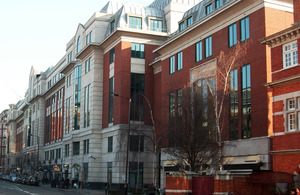 A carbon-cutting, growth boosting local transport scheme is set to go ahead in Tyne and Wear after almost £5 million of government funding was confirmed by Transport Minister Norman Baker.
Central to the project, Go Smarter to Work - Tyne and Wear Sustainable Transport Package, will be measures to relieve congestion on the A1 Western Bypass and make travelling to work in the area quicker and easier.
There will be new infrastructure such as bus priority lanes, cycle and walking routes and cycle parking at key transport interchanges. Those travelling on public transport will also benefit from real-time travel information facilities.
Innovative ideas have been developed to help those in areas where accessing work can be a significant problem and those living in remote rural areas will benefit from a scooter hire scheme to help them get to employment and training hubs.
The Department for Transport funding sees the final allocation of the government's local sustainable transport fund and is expected to unlock additional local contributions of £2.7 million.
Norman Baker said:
The scheme we are funding will improve life for people in Tyne and Wear and show that cutting carbon and boosting economic growth and opportunity can go hand in hand.

Our investment in this scheme shows that we are serious about funding infrastructure where there is a clear business case for doing so. The money we are putting into this project will unlock much greater economic benefits for communities as well as improving the environment - it is a win-win for Tyne and Wear.
The first allocations of Department for Transport support under the Local Sustainable Transport Fund were made in July 2011. Since then, the fund has provided schemes across English regions with a total of over £600 million. All the schemes have also received significant contributions from local councils or the private sector.
These local schemes are bringing national benefits. In addition to supporting economic growth, while enabling and encouraging people to make more sustainable travel choices, the projects will reduce delays on the roads in urban areas, delays which cost the economy around £11 billion a year. They will also help tackle problems such as poor air quality and improved cycling and walking infrastructure will help to improve the health of the nation.
Notes to editors
Tyne and Wear Integrated Transport Authority (ITA) secured Local Sustainable Transport Funding of £4.904 million in the first round of the fund in July 2011. A subsequent larger bid earlier this year did not secure funding but the ITA was invited to submit a revised proposal focusing on a specific geographic area. Today's announcement relates to this revised bid, which will receive £4.995 million from the Department for Transport.
A full list of schemes that have been funded by the Local Sustainable Transport Fund will be published on the Department for Transport website.
Press enquiries: 020 7944 3066
Out of hours: 020 7944 4292
Public enquiries: 0300 330 3000
Published 11 September 2012