Press release
£5 million scheme to reduce bus emissions
Pollution reducing fund allows local authorities to upgrade their buses to greener practices.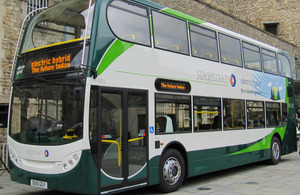 A number of towns and cities in England will benefit from £5 million in funding to reduce pollution from local buses, Local Transport Minister Norman Baker announced today (5 June 2013).
Local authorities will be able to bid for grants of up to £1 million from the Department for Transport's Clean Bus Technology Fund. This will allow them to upgrade local buses with pollution-reducing technologies such as cleaner engines or exhaust after-treatment equipment.
Norman Baker said:
Improving air quality is important for the coalition government. This £5 million scheme will help clean up emissions from older buses in some of our most polluted urban areas.

It will lead to real improvements in air quality on some of our more polluted streets, as well as helping stimulate jobs and growth in the bus and retrofit industries. In addition it will give British companies the opportunity to market new technologies to overseas bus operators and governments.
The scheme is in addition to the £12 million funding announced last month for 213 new low carbon buses in the latest round of the Green Bus Fund. Whilst last month's announcement was for new buses, this is for retrofitting current buses with green technology.
Today's (5 June 2013) announcement also follows upgrades that are already being made to 900 older London buses that operate on routes with some of the worst air quality.
Notes to editors
The £5 million Clean Bus Technology Fund was launched on the 5 June 2013. The application form and guidance to local authorities has been issued on the government's website. Transport Minister Norman Baker, is writing separately to local authorities inviting them to bid for this fund.
Local authorities in England (outside of Greater London) can bid for grants of up to £1 million to support upgrading buses with pollution-reducing technology on the routes where air quality does not meet European standards. Older buses can be a major contributor to vehicle emissions, in particularly in urban areas.
Local authorities will be free to consider a variety of 'off-the-shelf' technologies such as fitting cleaner engines, exhaust after-treatment, conversion to hybrid or alternative fuels, or look to develop new technologies, providing they can demonstrate the high likelihood of success in improving air quality. They will be expected to work with the bus operators in deciding on routes and vehicles. Bus operators in turn may need to contribute to individual projects.
DfT is already providing £5 million, match funded by the Mayor, to upgrade 900 older buses by March 2014 with exhaust after-treatment technology. The programme is already showing promising results with initial tests showing reductions of up to 88%.
Reducing pollutant emissions from older buses, in particular oxides of nitrogen (NOx), demonstrates the government's commitment to improved air quality in our towns and cities, and meeting EU air quality standards.
The success of projects supported under this scheme, may inform the launch of similar schemes in future.
For more information about the £12 million funding announced last month.
Related documents
News desk enquiries
Press enquiries 020 7944 3021
Out of hours 020 7944 4292
Switchboard 0300 330 3000
Published 5 June 2013