Press release
£5 million boost to cut pollution from local buses
Eleven local authorities have been awarded grants from the Clean Bus Technology Fund, which will allow almost 400 buses to be upgraded.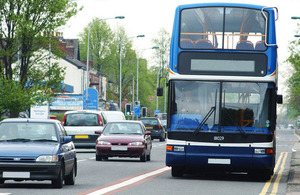 Towns and cities in England are set to benefit from £5 million of funding to reduce pollution from local buses, Local Transport Minister Norman Baker has announced today (29 August 2013).
A total of 11 local authorities have been awarded grants from the Department for Transport's Clean Bus Technology Fund, which will allow almost 400 buses to be upgraded.
Local Transport Minister Norman Baker said:
The funding we are providing will help clean up emissions from older buses in some of our most polluted urban areas, with all the health benefits that brings.

This will lead to real improvements in air quality on some of our most polluted streets, as well as helping to stimulate jobs and growth in the bus and environmental technology industries. I look forward to seeing how these initiatives are taken forward, and to the delivery of real results very soon. I hope that other parts of the country will adopt similar measures in the near future.

Improving air quality is important for the coalition government, as is economic growth. This scheme will benefit the environment as well as helping create and sustain jobs in British companies, allowing them to develop and market new clean technologies here and abroad.
Environment Minister Lord de Mauley said:
This funding boost will bring real improvements to air quality around the country which is good news for the environment and our health.

I am keen to embrace new technology and encourage local authorities to share their experience so that others can follow suit.
DfT has already provided £5 million of funding, match-funded by the Mayor, to fit 900 London buses with exhaust after-treatment technology, which is already delivering significant reductions in pollution in the capital. The funding announced today (28 August 2013) will allow local authorities in other parts of England to clean up their buses in similar ways, delivering similar benefits.
Notes to editors
The £5 million Clean Bus Technology Fund was launched on 5 June 2013. Thirty-one local authorities in England (outside of Greater London) bid for grants of up to £1 million to support upgrading buses with pollution-reducing technology on the routes where air quality does not meet European Commission standards. After careful assessment, 11 authorities have now been awarded grant to upgrade 392 older buses operating in areas with poor air quality, with 5 types of technology.
| Winning bidders | Number of buses | Amount of DfT grant |
| --- | --- | --- |
| West Yorkshire Passenger Transport Executive | 119 | £999,957 |
| Merseytravel | 59 | £818,520 |
| Greater Manchester | 30 | £682,890 |
| Southampton City Council | 37 | £632,700 |
| Leicester City Council and Leicestershire County Council | 32 | £583,520 |
| Suffolk County Council | 31 | £384,028 |
| Gateshead Council, Newcastle City Council and Nexus | 21 | £346,500 |
| Lincolnshire County Council and City of Lincoln Council | 11 | £231,000 |
| St Albans City and District Council | 40 | £142,000 |
| Cheshire West and Cheshire Borough Council | 8 | £128,000 |
| Tunbridge Wells Borough Council | 4 | £36,000 |
Funding was awarded based on 5 main criteria:
whether bids fit objectives of establishing the best technologies and developing the retrofit industry
air quality impact
value for money
deliverability
whether they offered cross-cutting benefits such as encouraging economic growth
Local and transport authorities were free to consider a variety of 'off-the-shelf' technologies such as exhaust after-treatment, conversion to hybrid propulsion or cleaner low carbon fuels, or look to develop new technologies, providing they demonstrated the high likelihood of success in improving air quality.
Winning schemes include a mix of proven technologies like Selective Catalytic Reduction and new technologies such as hybrid flywheel, which can deliver up to 20% fuel reduction and harmful emissions; gas engine replacement and other innovative modifications. Local and transport authorities are expected to work with the bus operators in taking their new projects forward and DfT will be following their progress.
DfT is already providing another £5 million, match-funded by the Mayor, to upgrade 900 older London buses by March 2014 with exhaust after-treatment technology. The programme is already showing promising results with initial tests showing reductions of up to 88% of harmful emissions.
Reducing pollutant emissions from older buses, in particular oxides of nitrogen (NOx), demonstrates the coalition government's commitment to improved air quality in our towns and cities, and meeting EU air quality standards.
The success of projects supported under this scheme, may inform the launch of similar schemes in future.
The Clean Bus Technology Fund is in addition to the £12 million funding announced in May 2013 for 213 new low carbon buses in the latest round of the Green Bus Fund.
News desk enquiries
Press enquiries 020 7944 3021
Out of hours 020 7944 4292
Switchboard 0300 330 3000
Published 29 August 2013
Last updated 29 August 2013
+ show all updates
Attached to local transport policy.
First published.