News story
£1.7 million to repair small ports across England
Fund will help local economies and boost tourism in coastal communities.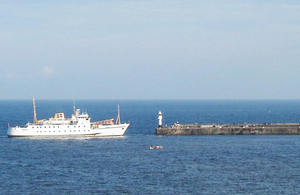 Transport Secretary Patrick McLoughlin has announced £1.7 million funding to help repair small ports and harbours across England damaged by winter storms.
Twenty one communities will benefit ranging from Cornwall to East Riding.
Patrick McLoughlin said:
Our small ports are vital to the livelihoods of the communities they serve and are the lifeblood of the local economy.

The government has already provided significant funding to reverse the damage caused by an exceptionally wet and windy winter. I want to see this additional money help the recovery in these coastal towns.
The Small Ports Fund is in addition to £200 million already provided by the government to help fix roads, railways and coastal communities hit by the severe winter weather.
Ports funding – who is getting what and why they need it
Cornwall
Bude Harbour: £35,405 to fix holes in breakwater and trailing wall damage; £13,668 to address loss of sand from within the breakwater which has led to granite stones been undermined
Mousehole Harbour: £19,905 to fix partial collapse of old wharf, damage to car park, toilets and railings as well as replacing timbers and equipment related to electricity supply
Newlyn Harbour: £4,320 for repairs to North Pier roofing and South Pier railings
Penzance Harbour: £129,674 to fix breach of sea wall, loss of fresh water supply and damaged lighting on Lighthouse Quay and, on South Quay, to repair damage to fresh water break tank, cobbled surface and electrical bollards
Porthleven Harbour: £434,786 to repair collapse of wall at Fisherman's Quay, remove large granite blocks partially blocking the sluice and fix damage to the hospital corner wall, loss of capping to harbour head wall and undermining of slipway. A further £66,391 to fix damaged caused by wooden baulks to Inner Harbour shifting, damaging roads, ladders and mooring chains
Porthreath Harbour: £179,363 to repair the collapse of the eastern breakwater and wall above it, with a further £83,431to address the damage to the Forward Observation Hut on Finger Pier
Portwrinkle Harbour: £115,000 to fix the collapse of harbour wall and damage to quay surface
St Ives Harbour: £6,784 to repoint parts of Smeaton's Pier and replace damaged railing on wharf steps
Newquay Harbour: £2,964 to repair damage to slipway, quay, and landing steps
Par Harbour: £95,000 to fix damage to the harbour wall and surrounding areas
Devon
Brixham: £11,160 for facing masonry at Eastern quay
Clovelly: £5,457 to repair keystones dislodged by swell as well as cobbled surfaces, repointing harbour wall and clearing stones blocking access
Paignton: £18,465 for repairs to foundation toe and fenders at East Quay and landing quay and £19,250 for repairs to address undercutting of foundations of the East Quay wall
Plymouth City: £101,250 repairs to steps and quay wall at Commercial Wharf Cattewater
Torquay Harbour: £245,950 to repair masonry facing and seaward stairs at Princess Pier and for pontoons at Torquay Town Dock
East Riding
Bridlington: £56,925 for damage to protective coating on Fish Quay, South Pier
Isle of Wight
Ryde Harbour: £29,455 to repair paving and concrete walling
Suffolk
Southwold Harbour: £15,717 to repair flooding and wash damage to fishing stage, harbour office and Walberswick Quay
Norfolk
Wells-next-the-Sea Harbour: £14,960 to repair damage to Outer Harbour berms and Inner Harbour berths
West Sussex
Littlehampton Harbour: £2,109 repairs to capping beam and wall
Cambridgeshire
Fenland District Council: £1,200 to remove silt and debris on quay
News desk enquiries
Press enquiries 020 7944 3021
Out of hours 020 7944 4292
Switchboard 0300 330 3000
Published 14 August 2014