Press release
£17 million estimated savings as cost of taxpayer-funded trade union representation halves
The cost to taxpayers of trade union representatives in government departments has halved, according to figures published today.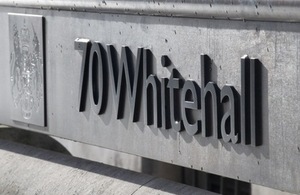 The facility time allocation has been falling since November 2011, when the first snapshot of paid union activity in government was taken. The new figures, for quarter 3 of 2013, show that:
the number of full-time trade union representatives has fallen by 163 to 37 – a reduction of four-fifths
the overall number of trade union representatives has fallen by almost 1,000
the average percentage of the pay bill that departments are spending on trade union activity has fallen from 0.26% to below the 0.1% benchmark – a reduction of two-thirds
Before 2010 there was no central scrutiny of facility time. In October 2012, the government introduced a range of measures designed to ensure that facility time arrangements in the civil service reflect modern working practices. They included:
more rigorous, quarterly, monitoring and reporting by departments
a cap on trade union representatives spending more than 50% of their paid time on trade union work without ministerial sign-off
a ban on any full-time representatives being promoted while working full-time on union work
a default position that union activities will not attract paid time off
a guide figure for monitoring the spend on facility time (0.1% of the paybill for 2013)
Cabinet Office Minister Francis Maude said:
Trade unions can play a constructive role in a modern workplace, but in the past taxpayer-funded trade union representation in the civil service was not centrally controlled or monitored. Before 2010, too many civil servants were working on nothing but union work, full-time. Some were even promoted – 1 twice – despite not doing the job they were employed for, which is not fair to taxpayers or other civil servants.

We have introduced monitoring of facility time, and are limiting the amount of time civil servants can spend on trade union work. As part of our long-term economic plan we saved an estimated £17 million last year by controlling trade union representation in the civil service. We've reduced the number of full-time representatives by four-fifths since 2011. Today's figures show that we are making good progress but there's some way still to go.
Facility Time figures for Q1, Q2 and Q3 in 2013 have now been published.
Following a consultation in 2012 about reforming trade union facility time and facilities in the civil service, the government announced that there would be a requirement for departments to report facility time on a quarterly basis to the Cabinet Office for publication.
Published 4 February 2014