£16 million for new technologies to improve global food production and security
Twenty-four innovative agri-tech projects have been awarded a share of £16 million funding through the latest round of the Agri-Tech Catalyst.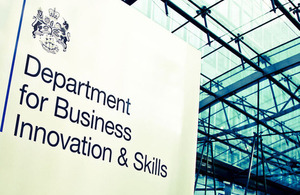 twenty-four projects share £16 million to help solve the world's greatest agricultural challenges
weed-killing robots and ultra-sensitive storage technology for UK apples to help food security and sustainability
new report shows UK's agri-tech sector is worth more than £14 billion and employs over half a million people
round 6 of the Agri-Tech Catalyst opens today (13 July 2016) , focusing on international development projects
Twenty-four innovative agri-tech projects have today been awarded a share of £16 million funding through the latest round of the government's Agri-Tech Catalyst to solve some of the world's greatest agricultural challenges – from food security and sustainability to weed control and livestock disease.
The UK is a world leader in the fast growing agri-tech sector, as global challenges such as rising population, shortages of land, water and energy require better and more reliable production of food. This round of the government's Agri-Tech Catalyst – alongside industry co-investment – has provided awards between £200,000 and £1.5 million to the most pioneering science and technology projects within the UK's agricultural sector to help meet the global demand for food with the least environmental impact.
Successful projects in the fifth round of funding announcements include the development of a robot that accurately eliminates and controls weeds, which will significantly reduce the use of herbicides in food production. Another project will look at why potato greening occurs and how to prevent it – helping to reduce the 100,000 tonnes of potatoes thrown away annually. Support has also been given to develop technology that will help fruit farmers monitor and control the storage of British apples – improving their availability window across the year and reducing the need for imports.
Five projects will target challenges in developing countries, including improving methods to detect carcinogenic mould toxins in food crops.
Life Sciences Minister George Freeman said:
Agri-tech is fast becoming big global business, creating major investment and export opportunities for the UK.

Whether extending the availability of UK apples to controlling the infection of cacao plants in Ghana, these innovative projects demonstrate the UK's leadership in developing technologies and companies that will improve food and farming productivity in this country and around the world.
Farming Minister George Eustice said:
Although there has been great pressure on farm incomes over the past 12 months, I believe the industry has a good future and technological advances will help. Farmers have an essential role in building a strong economy and feeding the nation.‬‬‬‬‬

Taking innovations from the laboratory to the farm is key to boosting productivity, and tackling pests and diseases. That is why the government supports projects through our Agri-Tech Strategy, like those who have won today.
Today's investment will help grow the UK's agri-tech sector – which new research published today reveals is worth around £14 billion to the UK economy and employs over half a million people. Research also shows the vital role of public and private partnerships in the recent success of agri-tech – with private investment in research and development reaching almost £500 million in 2012 to 2013.
Today the next round - Round 6 - of the Agri-Tech Catalyst opened which will focus solely on international development projects and will be managed by the Department for International Development.
International Development Minister Nick Hurd said:
This next round of the Agri-Tech Catalyst offers a fantastic opportunity to help farmers in the world's poorest countries access the latest technology and innovation, helping them to get the tools they need to lift themselves out of poverty. This has the potential to not only end dependency on aid, but also develop new markets for Britain to trade with.

That's why for this round I want to see new ideas that can make a real, lasting improvement to the lives of those who desperately need it.
Background
Agri-Tech Catalyst:
The Agri-Tech Catalyst was set up by the Department for Business, Innovation and Skills (BIS), Innovate UK, Department for International Development (DfID), Department for Food and Rural Affairs (DEFRA), and the Biotechnology and Biological Sciences Research Council (BBSRC) with a £70 million investment to help make the UK a world leader in agricultural technology, innovation and sustainability.
The Agri-Tech Catalyst offers funding for collaborative projects, taking innovative ideas from any sector or discipline with the potential to provide an economic boost to the UK agri-tech industry, by tackling challenges in agriculture.
The scheme helps take innovations all the way from concept to commercialisation, awarding grants for early stage, pre-industrial research feasibility studies, industrial research, and late-stage pre-experimental and experimental feasibility studies.
Full summary of projects funded in Round 5:
Agri-Tech Catalyst Round 5 – Early Stage
Project 1: 3D Vision-based Crop-Weed Discrimination for Automated Weeding Operations
Partners: University of Lincoln and Garford Farm Machinery Ltd
Description: Current crop production systems have been reliant on the wide-scale application of herbicides to control weeds. However, this approach is not sustainable due to unprecedented regulatory and environmental pressures which place new emphasis on the development of novel techniques to kill weeds. This project will investigate the technical foundations for the next generation of robotic weeding machinery, enabling selective and accurate treatment of specific weeds. The proposed technology is a novel combination of low-cost 3D sensing and learning software together with a suitable weed destruction technique. The proposed developments will lead to more efficient cultural weeding equipment resulting in better management of weeds and reduced input use, bringing several benefits to food producers, sellers and society.
Project 2: GrassVision - Automated application of herbicides to broad-leaf weeds in grass crops
Partners: Soil Essentials Ltd; University of the West of England (UWE) and Aralia Systems Ltd.
Description: GrassVision will use imaging and precision agriculture techniques to develop a novel spray apparatus for precision application of herbicides to broad-leaf weeds in grass crops. The GrassVision consortium consists of imaging experts (Centre for Machine Vision, UWE), data analysis experts (Aralia Ltd.) and precision agriculture experts (Soil Essentials Ltd.).
Sustainable production requires weed control methods to reduce herbicide use to comply with current and future EU legislation. The primary focus will be to detect weeds using novel 3D machine vision techniques. Initially the project will use off-the-shelf machinery to spray a targeted area around each weed, with an estimated aimed decrease in herbicide use of around 75%. The project will then look to determine the limits of precision by refining the boom itself. Using this approach, they hope to achieve an ideal target of a 5x5cm spray area per-weed, providing potential reductions in herbicide use in excess of 90%.
Project 3: Low cost Hyperspectral Crop Camera (HCC) for agriculture optimisation
Partners: Wideblue Ltd; Galloway & Macleod Ltd; the James Hutton Institute; University of Strathclyde and University of West of Scotland.
Description: A consortium from a broad range of disciplines has come together to develop a revolutionary low cost crop camera that could potentially allow farmers to improve crop yield, use less fertiliser, use less pesticide and spot pests and diseases earlier.
The project will be led and coordinated by Wideblue Limited - a developer and manufacturer of specialist cameras. The project will also call on the skills of the James Hutton Institute's expertise in crop nutrition and monitoring, the University of Strathclyde's Hyperspectral Imaging Centre, the University of the West of Scotland's Institute of Thin Films, Sensors and Imaging, and Galloway & MacLeod's intelligent agriculture division.
Project 4: A novel Biopesticide formulation technology for major lepidopteran crop pests
Partners: Exosect Limited; Lancaster University and University of Greenwich
Description: Biopesticides are products based on the natural diseases of insects that can be used to protect crops against pests. They are environmentally friendly because they target only a limited group of insects and are safe to humans, livestock and beneficial insects such as pollinators.
However, biopesticides have a number of shortcomings which mean that they are not commonly used. This project aims to develop an innovative approach to improve the field persistence, efficacy, shelf life and cost-effectiveness of viral biopesticides against the moth caterpillars that eat crops. It will build on tried and tested Entostat technology to better protect the biopesticide while in storage or on the crop, while also improving its capacity to kill pest insects. The opportunity exists to replace current foliar chemical insecticides in this sector with a biopesticide of equal efficacy and substantially lower environmental impact and this project will take an important step in this direction.
Project 5: Strategies to reduce waste due to greening in potato tubers
Partners: James Hutton Institute; University of Southampton; James Hutton Limited; Amcor Flexibles UK Limited; Branston Limited; Tesco Plc and Waitrose Limited
Description: In the UK, tuber greening is directly linked to 116,000 tonnes of household potato waste each year with an associated estimated loss of £60 million per annum to UK retailers. In field losses due to tuber greening also cost the industry £37 million per annum. Greening is a significantly negative factor in consumer purchases where a 1% increase in sales is worth £3 million per annum to producers.
This project brings together partners that span the food chain from production, through packaging, to major supermarkets who will work with academic researchers to develop solutions to reduce tuber greening. Photobiological experiments will identify the conditions and target genes for light-induced tuber greening informing the design of prototype packaging film to reduce greening during storage and in store. Recently developed potato genetic approaches will be used to identify markers for genes associated with reduced greening providing the foundation of a longer term strategy to produce new non-greening potato varieties.
Project 6: Early detection of tail biting in pigs using 3D video to measure tail posture
Partners: SRUC; Innovent Technology Ltd; Agri EPI Ltd and J Sainsbury Ltd
Description: Tail biting in growing pigs starts without warning. Outbreaks of tail biting result in pain and sickness for bitten pigs and economic losses for farmers, particularly when infection through tail wounds results in abattoir condemnation of meat. Recent research shows that a pig's behaviour changes before a damaging tail biting outbreak starts. This project aims to develop a 'smart farming' product based on the latest video technology and machine-vision software to automatically detect these changes and warn farmers so they can intervene to stop tail biting. The project brings together SRUC's expertise in pig behaviour analysis, Innovent Technology Ltd's machine vision software development skills with Sainsbury's pig supply chain perspective to ensure that end user needs are met. Experience with on-farm 3D video, and access to a network of Agri-tech expertise will be facilitated by the Agri-EPI Centre.
Project 7: Humane electric stunning
Partners: Ace Aquatec Ltd; Bristol University
Description: A novel method of electrically stunning farmed fish.
Project 8: Aflascope: sample extraction procedures for improved aflatoxin management
Partners: Crop-Innovations; Gorta Self Help Africa; Bora Biotech Ltd; Agsenze Ltd; Secure Harvest Ltd and PepsCAgo Ltd.
Description: AflaScope is a cross-disciplinary collaboration to examine the feasibility of using an acoustic separation platform for purification of aflatoxins from crops. Aflatoxins (toxins from storage mould) are a significant threat to food security, particularly in developing nations. Testing and monitoring are vital but, due to complex sample prep, high cost, inaccessibility and lack of information, aflatoxin testing is not thoroughly implemented and billions of people are at risk.
This innovative project will develop a novel, rapid and chemical-free procedure for extracting and concentrating aflatoxins. When integrated with down-stream diagnostic advances, the extraction platform could enable a low-cost, sensitive, portable test system for on-site aflatoxin monitoring, increasing ease and frequency of testing, and potentially improve decontamination. If successful, the resultant increase in crop value and safety will bring about a step-change in on-farm management.
Project 9: Rapid and cost effective 'on-site' detection of Cacao swollen-shoot virus (CSSV)
Partners: Mars Chocolate UK; WCF Ghana-CocoaAction and the University of the West of England (UWE)
Description: Cocoa beans are the key raw material in chocolate manufacturing. In West Africa, where 70% of the cocoa imported and consumed in the UK is produced, the chocolate industry has identified Cacao Swollen Shoot Disease (CSSV) as the major constraint to productivity. A cacao farm with CSSV will suffer declining yields and hence declining farmer income from what is often the only cash crop being grown. To limit the spread of this disease it is essential to develop diagnostic test that can detect pre-symptomatic infection facilitating its prompt control.
In this proposal the project will develop a suitable methodology and associated instrumentation to detect CSSV in crude plant extracts. Our approach will employ paper based detection assays suitable for rapid application that can be used in formats that enable unskilled personnel to operate them, thereby enabling their widespread deployment in the field. This will have a significant impact on the economic prospects of cacao farmers in West Africa.
Project 10: DryGroAF (DAF)
Partners: CO2i Ltd; XL Horticulture; Rothamsted Research and World Vision Kenya
Description: The DryGro™ process enables the production of crops on arid land - it uses 99% less water than conventional agriculture and has the potential to transform large areas of land which are currently unproductive. The focus of the DAF project is to develop the process to grow biomass to produce animal feed.
Agri-Tech Catalyst Round 5 – Industrial Research
Project 1: Tools and technology for predicting tomato glasshouse production
Partners: Thanet Earth Marketing Limited; Rail Vision Europe Ltd and East Malling Research
Description: Year round UK glasshouse production of tomatoes for supermarkets is highly intensive. Although this production is highly controlled it is still difficult to accurately predict picking yields which has an impact on the food supply chain. This inaccuracy requires businesses to continually react to this inefficacy. Over-prediction results in costly imports, whilst under-prediction incurs financial losses from the disposal of surplus fruit. There is considerable potential to reduce these losses and increase the proportion of UK sales by improving the accuracy of yield forecasts. The project will develop an imaging system, TomVision, and mathematical models, PredictTomPro, to more accurately predict weekly yields and deliver significant savings in import costs and waste. Our aim is to predict weekly harvests to 10% of actual, which will generate £30,000/ha extra income per annum for producers and for the developers the anticipated sales of these tools of £1.3 million / £11.3 million / £26 million (UK/EU/Worldwide) after 5 years.
Project 2: Bacteriophage management of on-farm salmonella contamination of vine fruits
Partners: APS Biocontrol Limited; University of Leicester; Community Foods Limited and Tesco Plc.
Description: Salmonella is the most important foodborne pathogen and incidences caused by contaminated food of non-animal origin have been increasing, reflecting rising consumers' demands for fresh/minimally-processed fruit and vegetables. Crops with an outdoor post-harvest management period are particularly at risk.
This project focuses on Salmonella contamination of vine fruits (raisins, sultanas), which are dried outside post-harvest and exposed to animal fouling. Impacts throughout the supply chain are significant, from grower to retailer, with significant recall costs involved. This project will transfer technology from both industry and academia to develop an innovative technology to prevent on-farm Salmonella contamination; ie at source. The solution will be based on safe, naturally-occurring, highly-specific antimicrobial agents (bacteriophage). A business-led consortium will address questions of technology specificity and characterisation, together with deployment and integration into commercial practice.
Project 3: Use of stress pre-conditioning, novel sensors and arbuscular mycorrhizal fungi (AMF) to improve crop management, marketable yields, stress resilience and environmental sustainability of raspberry production
Partners: BerryGardens Growers Ltd; East Malling Research; Plantworks Ltd; Environmental Monitoring Solutions Ltd and Netafim UK Ltd.
Description: UK raspberry production was worth £109 million in 2014, but a further 11KT of berries, worth £59 million, are imported each year. A 20% increase in the 14KT of fruit produced per annum in the UK could be expected to reduce imports by 2.8KT, and raise the value of the UK industry by £15.7 million per annum.
However, improved on-farm management of water and fertiliser inputs is needed to optimise productivity; currently, excessive fertigation to substrate-grown raspberry results in vigorous cane growth which makes crop management difficult and harvesting costly. Nutrient leaching also poses a risk to groundwater quality. The project will use novel affinity sensors combined with fuzzy logic to automatically adjust nutrient inputs to match plant demand in real time, reduce fertiliser losses to the environment and improve berry quality. Stress pre-conditioning and AMF will be used to raise marketable yields, improve resource use and acquisition, and increase crop resilience to stresses.
Project 4: Integrated control of Leptosphaeria pathogens on UK winter oilseed rape
Partners: HL Hutchinson Ltd; DuPont UK Ltd; KWS UK Ltd; Weston Park Farms; SynTech Research UK; F G Taylor & Son (Grove Farm) and University of Hertfordshire
Description: Phoma stem canker is a damaging disease of oilseed rape in the UK, leading to yield losses > £100 million per annum despite the use of fungicides. This disease is caused by 2 related pathogens: Leptosphaeria maculans and L. biglobosa.
However, current control of the disease focuses only on L. maculans. Recent work showed that L. biglobosa can cause substantial yield losses and that it is less sensitive to triazole fungicides than L. maculans. L. biglobosa is a threat to oilseed rape production in the UK since no methods have been developed to control it.
This project will investigate stem canker epidemics caused by L. biglobosa, determine the proportions of L. biglobosa and L. maculans in pathogen populations, screen cultivar resistance against L. biglobosa, determine efficacy of different fungicides for control of L. biglobosa as well as L. maculans. The new knowledge about the pathogens, host resistance and efficacy of fungicides will be used to develop new control strategies that ensure both pathogens are targeted.
Project 5: Automato
Partners: Sharp Laboratories of Europe Ltd; The Shadow Robot Company Ltd; Stockbridge Technology Centre Research Foundation; Thanet Growers Eight Ltd (Thanet Earth) and Cornerways (as part of British Sugar PLC)
Description: The Automato Robot project aims to address the seasonal labour constraints in the UK/European tomato industry and their increasing cost through the development of a cost-effective robotic system that performs on-crop quality and ripeness inspection and then automated harvesting.
The project brings together state of the art knowledge of innovative robotic arms, 3D sensing, computer vision and object/pattern recognition as well as expert industry knowledge of commercial greenhouse operations and optimum growing/harvesting practices. This is an industry led project with clear goals for manufacturing and commercialisation post-project following proof of concept demonstration
Project 6: Supply chain development in Kenya - UK Agritech to improve rural livelihoods
Partners: James Finlay Ltd; Dudutech Limited; Forum for the Future; University of Reading and University of Lincoln
Description: The project plan undertakes to develop a new sustainable essential oil market supply chain for large numbers of smallholders in Kenya. The project aims to develop a range of crops to market which would enable the small holders' production portfolio to be more balanced and robust, and develop into long-term supply programs.
The Project is centred on the Fairtrade Fintea Co-operative Union Ltd (12,000 Members) in Kericho Western Kenya and the Dudutech Marigat Project in Baringo County (approx. 7,000 members). It will develop sustainable production systems for 5 oil crops, underpinned by research in sustainable crop production systems and the development of novel QA processes to monitor oil quality in Kenya.
Project 7: A whole supply chain approach to control Campylobacter
Partners: Moy Park Ltd; Devenish (NI) Ltd; Primer Design Ltd; University of Lincoln; University of Liverpool; Slate Hall Veterinary Practice and St David's Poultry Team
Description: Campylobacter is one of the most serious food borne pathogens, infecting over 280,000 people and costing the UK economy £580 million per annum. This study will conduct the largest known molecular study to track and trace Campylobacter through the supply chain. It will deploy whole genome sequencing on a massive scale to optimise a series of on farm and factory interventions that reduce the contamination of whole chickens with Campylobacter. These interventions include novel animal feeds and factory processes. It will also develop a new qPCR testing kit for Campylobacter. This will be deployed and validated on farm and in factories. The kit will be developed to segregate live from dead cells. It will provide the industry with a real time and accurate rapid enumeration technique.
Project 8: Next generation modified atmosphere materials to extend farm storage & reduce waste
Partners: Johnson Matthey Plc and Cranfield University
Description: The control of respiratory gases within a storage or packaging environment has long been recognised and used to extend the post-harvest quality of fresh fruit and vegetables, and thereby reduce food wastage. The manipulation of respiratory gases can either be controlled or passive, but is rarely responsive. Current modified atmosphere packaging is inflexible as it does not actively and sufficiently react and respond to the changing physiology of the product and the allied gaseous kinetics.
This project sets out to develop the next generation of modified atmosphere materials by creating innovative cost effective packaging formats which are able to actively manipulate the internal atmospheric composition within the packaging environment and thereby administer the ideal gaseous conditions at the optimum time during post-harvest life.
Project 9: Carcass trait phenotype feedback for genomic selection in sheep
Partners: Texel Sheep Society; Anglo Beef Processors (ABP) and Scotland's Rural College (SRUC)
Description: Only around half of UK-produced lambs meet target conformation and fat quality specifications resulting in waste at the farm and processor levels. This livestock genomics project addresses key issues in primary livestock production by collecting, analysing, and exploiting state-of-the art genomic and new phenotypic data from meat sheep on hard to measure (HTM) traits, combining carcass and disease for sustainable sheep improvement. New visual image assessments (VIA) of post-mortem lamb carcass quality, and novel, in-line meat hygiene records on individuals will be linked to genome-screening technology to identify superior bloodlines and genomic regions that are more productive and also more resistant to economically-important disease traits. This allows greater productivity to be achieved without compromising health and welfare, and explores the best method to deliver genomic solutions for increases in productivity and efficiency in tandem with improvements in animal health.
Project 10: Improving consistency of yields and quality of large-scale and small-holder bean production in Kenya by precision management of soil, water and pathogens 
Partners: Provenance Partners Ltd; Vegpro (Kenya) Ltd; East Malling Research; WeatherQuest Ltd and DuduTech Kenya Ltd
Description: Delivering consistent supplies of high quality fresh produce is a significant challenge for Kenya's fresh vegertable growers. A yield of beans range from 5 to 50T/ha and up to 40% of produce is of poor quality due to ineffective irrigation and soil-borne diseases. A 12% increase in average yield and a 20% reduction in waste would raise Class 1 yields by 978T/year; this would generate an extra £3.2 million per year, increase food security and improve soil management practices.
The project will:
develop irrigation scheduling tools to improve consistency of cropping
identify effects of biocontrol agents on soil pathogens and soil microbiome
determine effects of soil water availability on incidence and severity soil pathogens and efficacy of biocontrol agents
develop integrated control measures to improve Class 1 yields, quality and shelf-life
promote benefits of precision irrigation and biocontrol at workshops/on-farm demos
assess social and economic impacts of outputs and implement sustainability improvement plans
Project 11: Extending the availability and flavour-life of UK apples using innovative photonics
Partners: Avalon Produce Ltd; Richard Hochfeld Ltd; Empire World Trade; Chelsea Technologies Group Ltd; Tesco Stores Ltd and Cranfield University
Description: The British apple industry is continuously asked by UK retailers to extend availability; this being achieved by implementing ever more sophisticated storage technologies. Whilst this demand is driven by a brand loyalty to domestic production, the industry is increasingly challenged by imports. In order that primary production of UK apples can be fully utilised and be made more competitive, a paradigm shift is needed to improve how apples are stored such that the focus is moved towards 'flavour-life' rather than being just driven by firmness and sugar content. The proposed work will develop novel sensor and allied storage interventions which will control ripening whilst maintaining 'flavour-life'. This offers a route to incremental storage extension to help reduce the reliance on imports and extend the window in which high quality British fruit can be offered.
Project 12: Integrating control strategies against soil-borne Rhizoctonia solani in oilseed rape (ICAROS)
Partners: Syngenta and University of Nottingham
Description: Rhizoctonia solani is an aggressive soil-borne pathogen of oilseed rape (OSR) and canola worldwide. It is implicated in the yield decline of the crop when grown with increased frequency in field rotations. Presently there are no disease resistant varieties hence the control of the disease relies on the use of chemical seed treatment. The key objectives of this project are to identify novel resistance traits and loci to R. solani which can be utilised in crop breeding and effective seed treatments that can be registered against the pathogen in OSR and made commercially available to UK growers. The ultimate output of this multidisciplinary project will be the first integrated guidelines for the control R. solani incorporating targeted seed treatments and varietal resistance for improved disease management and protection of OSR yield.
Agri-Tech Catalyst Round 5 – Late stage
Project 1: Vydrofarm – promoting sustainable food production via automated commercial indoor farms
Participant: Hydrogarden Wholesale Supplies Ltd
Description: VydroFarm is a fully automated commercial vertical hydroponics indoor system adapted for both cold and hot/humid climates. It incorporates a set of proprietary technologies and knowledge – including special LED lights, specific nutrient regime, and biodegradable growing media – to deliver 30% more crop yield, compared to existing growing technologies, and reducing by half the normal growing period. Vydrofarm delivers significant impact on crop production, making it feasible to grow nutritionally rich microgreens and medicinal herbs in urban and peri-areas, particularly rehabilitating redundant buildings, brownfields sites and high-polluted land. It also improves food security and increases the supply of nutritious and better quality produce to a larger amount of population.
Project 2: Rubber track undercarriage systems for controlled traffic farming
Participant: Sly Agri Ltd
Description: Rubber track undercarriage systems for controlled traffic farming.
Published 13 July 2016