News story
£11 million funding to boost opportunities for young people
41 voluntary and community sector organisations will be granted a total of £11 million to encourage young people to help others through social action.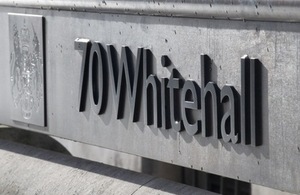 Social action means practical action in the service of others - getting involved to change others, communities or society for the better.
The cash will come from 2 funds – The Youth Social Action Fund and Youth Social Action Journey Fund – to provide a package of programmes across the country.
It was launched by Nick Hurd, Minister for Civil Society, and is part of the Cabinet Office's commitment to Step Up To Serve. This is an initiative led by HRH The Prince of Wales to increase the quality, quantity and frequency of social action opportunities for young people and double the number of young people aged between 10 and 20 taking part in social action across the UK by 2020.
Nick Hurd, Minister for Civil Society, said:
We want to make sure that young people develop the skills, values and confidence they need as they move into adulthood. That's why we are backing the Step up to Serve campaign with £11 million to increase the social action opportunities available for young people across the country.

Central to this is National Citizen Service which unites young people from different backgrounds and challenges them to bring about positive change in their neighbourhoods. It has the power to create a generation of 'work ready,' well rounded young people with raised aspirations and greater opportunities in their future.
Youth Social Action Fund
The Youth Social Action Fund (YSAF) opened in June 2013, offering financial support to social action programmes in 4 areas: Birmingham, Middlesbrough, Lancashire and Kent.
There is £5 million in total over 2 financial years:
Applications closed at the end of July and grants have been made in 2 categories: the first for amounts over £75,000 for existing organisations with a proven track record and the second for up to £75,000 to fund innovative new programmes or existing small, local projects.
An extra £125,000 has been awarded to support a Social Action Passport and Awards scheme alongside YSAF trials. This will help develop a common system for recording and rewarding social action activity so that this can be recognised by businesses and education.
Youth Social Action Journey Fund
The "Journey" Fund seeks to make the transition between social action opportunities easier for young people by funding organisations that provide more social action places to young people, and embedding National Citizen Service (NCS) in the social action journey of young people with whom they work.
Using the same evaluation framework, these programmes will enrich the data gained from YSAF about social action's outcomes on young people, while also providing the opportunity and benefits of National Citizen Service.
NCS is a once-in-a-lifetime opportunity open to all 15 to 17 year olds across England. It is a unique 2 or 3 week full-time programme focused around fun and discovery, plus 30 hours committed to a community project that benefits both young people and society. On this government backed programme, participants build skills for work and life, while taking on new challenges and adventures, making new friends, learning new skills and contributing to their community. Launched in 2011, 70,000 young people have taken part in NCS so far, giving more than 1.3 million hours to make their mark on their local community.
Published 19 February 2014