Press release
10,000 new entrepreneurs supported by Start Up Loans
The 10,000th loan from the government's successful Start Up Loans scheme has been awarded to a budding entrepreneur from Cornwall.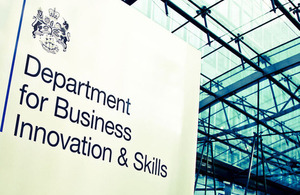 The 10,000th loan from the government's successful Start Up Loans scheme has been awarded to a budding entrepreneur from Cornwall, the Prime Minister announced today (20 November 2013).
Allen Martin, a Royal Navy veteran, runs Eclipse Property Cornwall, which manages properties on behalf of landlords. He received £10,000 from Start Up Loans to help launch his new business.
In reaching this significant milestone, Start up Loans has now lent £50 million to entrepreneurs looking for support in starting up a business and is a third of the way in meeting the target of supporting 30,000 new businesses with £151 million by 2015.
Watch a video of young entrepreneur Demilola Owoseje talking to Lord Young about how her loan has helped her:
What my Start-Up Loan means to me
The Prime Minister, David Cameron said:
Start Up Loans are helping budding entrepreneurs across our country achieve their dreams - people who have got ideas, determination and solid business plans, but through no fault of their own they can't get the money to make a go of it. New businesses are the lifeblood of a healthy, expanding economy: a symbol of aspiration and a source of jobs, that's why Start-Up Loans matter to me - and it's why they're a key part of my plan for Britain.
Business Secretary Vince Cable said:
Start Up Loans continue to expand, filling an important gap for aspiring entrepreneurs in the first stages of setting up their business.

Helping more small businesses to get started and thrive is a key part of the government's drive to create a more entrepreneurial society.
Business Secretary Vince Cable will meet Allen Martin, the 10,000th loan recipient alongside others on Wednesday at a breakfast reception hosted by James Caan, Chairman of the Start Up Loans Company.
Allen Martin said:
To have been given the opportunity to start a new life running my own business is an amazing feeling. This money will prove invaluable with my business during its first year and has enabled me to fulfil my ambitions of being my own boss after leaving the armed forces.
Allen served in the Royal Navy for 22 years as an engineer and mechanic, working with helicopters, search and rescue and commando forces. Having always known that he wanted to work for himself, Allen applied for a Start Up Loan to set up his business, Eclipse Property Cornwall. He is one of the first veterans to benefit from the removal of the 18 to 30 age cap on the scheme, announced by the Prime Minister in July 2013.
James Caan will pay tribute to the network of delivery partners who have worked with the Start Up Loan recipients to develop their ideas into feasible business plans and increase their chances of success.
James Caan said:
Today we are proud to announce our 10,000th loan. To consider we were just an idea only 18 months ago, looking at what we have achieved to date is astounding. Providing this vitally needed funding and support for fledgling businesses is exactly what our country requires, creating jobs, and strengthening the economy, improving enterprise.

There is still much work to be done; now we have lifted the age cap our focus has to be on helping all entrepreneurs of all ages come forward to start their business.
The 10,000 businesses that have been backed by Start Up Loans have all received help putting together their plan and pitch, have secured start-up funding and are now all undergoing business mentoring as they start their business.
Notes to editors
For more information on start up loans please visit – www.startuploans.co.uk.

For regional statistics and case studies please contact Emma Brown, Department for Business Press Office on 0207 215 5981.

Start Up Loans is a £151.5 million government-funded initiative that provides start-up support in the form of a repayable loan together with a business mentor for entrepreneurs across England, Wales and Northern Ireland.

£14 million of the funding announced by the Prime Minister on 12 September is designed specifically to support new participants in the Department of Work and Pensions' New Enterprise Allowance (NEA) scheme from 1 October 2013. Those joining the NEA after this date will access Start Up Loans instead of the previously available NEA loans.

Invented by Lord Young, the Prime Minister's Enterprise Advisor, Start Up Loans was created within the Department for Business, Innovation and Skills.

The overall economic benefit of the programme, taking account of the assumed default rate, is strongly positive as a result of the economic activity generated by the large majority of businesses supported by the programme that continue successfully.

Start Up Loans is one of a range of government-backed schemes totalling £2.9 billion that are being brought together under the Business Bank initiative. A further £1 billion of new capital will be deployed by the Business Bank in partnership with the private sector to further increase the amount of finance available and the choice of finance providers to businesses.

The government's economic policy objective is to achieve 'strong, sustainable and balanced growth that is more evenly shared across the country and between industries'. It set 4 ambitions in the 'Plan for Growth', published at Budget 2011:
to create the most competitive tax system in the G20
to make the UK the best place in Europe to start, finance and grow a business
to encourage investment and exports as a route to a more balanced economy
to create a more educated workforce that is the most flexible in Europe
Work is underway across government to achieve these ambitions, including progress on more than 250 measures as part of the Growth Review. Developing an Industrial Strategy gives new impetus to this work by providing businesses, investors and the public with more clarity about the long-term direction in which the government wants the economy to travel.
Published 20 November 2013