£10 million Farming Flood Recovery Fund to open on Friday
The government has promised £10 million of support for farmers affected by flooding.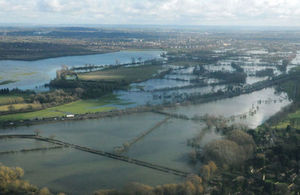 Farmers whose businesses have been directly affected by flooding will be able access £10 million of government support from Friday, Farming Minister George Eustice has announced today.
The Farming Recovery Fund was extended from 28 April to allow applications up to £35,000 for flood recovery. Updated guidance for applicants is now available. The fund is available to farmers affected by flooding since 1 December 2013 to help cover the costs of restoring damaged agricultural land.
The £10 million Farming Recovery Fund was announced by the Prime Minister on the 11 February as part of a comprehensive package of measures to help hard-working people in flood-hit areas following the wettest winter on record. It will open on Friday 28 Feb to provide assistance with four key areas of recovery, offering support with uninsured losses to get farms into production again.
the restoration of productive grassland;
the restoration of productive arable and horticultural land;
restoring farm vehicle access to fields;
improvements to agricultural drainage.
Under this new scheme, all farmers affected by the flooding will be able to apply for emergency funding of up to £5,000, covering up to 100% of their business costs. This will ensure that they can continue growing crops and grazing livestock.
The majority of the Farming Recovery Fund will be reserved for farm businesses whose farms remain flooded. Unlike the initial grant, the upper limit of this funding will be set when the impact on these longer term losses from flood damage are clearer, once the flood waters recede.
George Eustice, Farming Minster, said:
We want to help farmers affected by flooding and the severe weather to get their businesses back on track as soon as possible. The new £10 million Farming Recovery Fund has been set up to help farmers directly affected meet short term costs as the flood waters recede.
Additionally, the £10 million Farming and Forestry Improvement Scheme will offer eligible farmers grants of up to £35,000 on schemes designed to make businesses more resilient.
Designed with the NFU and local councils, the Farming Recovery Fund will be simple and easy for farmers to apply for through a single point of contact in Defra's Rural Development Team, by emailing frf@defra.gsi.gov.uk or calling 0300 060 2700. Funding will open on Friday 28 February.
Notes:
This funding will only cover uninsured losses and not items which insurance should normally cover.

It applies to England only.
Published 25 February 2014