News story
1 month to go to the Help to Buy: ISA government bonus – are you ready to save for yours?
Help to Buy: ISA - five simple steps buyers needs to follow to claim their bonus.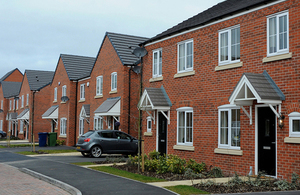 With one month to go until launch date, the government has today confirmed the five simple steps first time buyers need to follow to claim their government bonus from the Help to Buy: ISA:
first time buyer puts money away in a Help to Buy: ISA account
first time buyer closes their account when they are ready to purchase their first home and receives a closing letter from their ISA manager
first time buyer gives the closing letter to their solicitor
using the letter, the solicitor applies online for the government bonus
bonus is transferred to the solicitor, who completes the purchase of the home using the full bonus amount
Chancellor George Osborne said:
We're just one month away from the launch of the Help to Buy: ISA which will provide extra help for working people who want to buy their own home.

Today we are laying out the easy steps people will need to take to get hold of their Help to Buy: ISA bonus from the government.
Launched by the Chancellor at the 2015 March Budget, the Help to Buy: ISA is part of the government's long term plan to support people who want to work hard, save up for a deposit and buy their own home.
If you're thinking about opening a Help to Buy: ISA on 1 December, here's some useful information.
First time buyers who are doing the right thing and trying to save have struggled due to low interest rates since the financial crisis.
Starting on 1 December, first time buyers saving for a deposit will be able to save up to £200 a month in a dedicated ISA that the government will top up by 25%, up to a maximum of £3,000.
First-time buyers eager to make the most of the scheme can also open their account with a one-off lump sum of up to £1,000 in addition to the monthly maximum.
And couples buying together will be able to combine their bonuses, meaning a potential boost of up to £6,000 towards a deposit for a first home.
Published 1 November 2015