News story
Help to Buy: ISA – 6 things you might not know
If you're thinking about opening a Help to Buy: ISA, here's some useful information.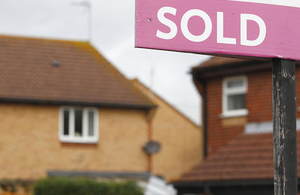 Several banks and building societies offer the Help to Buy: ISA
Barclays, Lloyds Banking Group, Nationwide, NatWest, Santander, and Virgin Money are amongst some of the banks and building societies that offer Help to Buy: ISAs.
View a full list of providers.
You can put away up to £200 a month in a Help to Buy: ISA that the government will then top up by 25%, up to a maximum of £3,000.
In the first month you're also able to put away £1,200 - that's an extra £1,000 on top of the monthly maximum of £200.
You can put up to £200 away in your Help to Buy: ISA per calendar month
So, if you open your account on the 8 September with £1,200, you then won't be able to make a second deposit of up to £200 until the 1 October.
You can make as many deposits as you want during the month as long as it doesn't equal more than £200. You can also take money out of your account if you need it, but your monthly allowance for deposits won't change.
Your bonus funds must be used towards your property's completion
You can only claim your bonus funds when you are buying a home – and the money has to go towards the completion of your property, so you can't use it to pay your solicitor's, estate agent's fees or any other costs associated with buying a home.
The interest you earn on the money in your account will count towards your government bonus
Your government bonus will be calculated based on the amount of money you have in your account when you close it. This includes both the money you have put away, and any interest you have earned on that money. You can have more than £12,000 in your account, but, you won't receive a government bonus of more than £3,000.
When you are ready to purchase your first home your solicitor or conveyancer will apply for your bonus
When you find your home, your mortgage provider will ask you to hire a solicitor or conveyancer. They handle all of the legal aspects of buying your home.
When you are close to finishing your home purchase, you will need to ask your bank or building society to close your Help to Buy: ISA. Don't just withdraw all of your money - let your bank or building society know that you are closing your account and they will give you a closing letter. You will need to take this letter to your solicitor or conveyancer so that they can apply for your government bonus.
Your solicitor or conveyancer will then apply online for your government bonus to be transferred to them at a date of their choice.
You need to apply for your bonus within 12 months of closing your account
You shouldn't close your Help to Buy: ISA unless you're in the process of buying a home – but if your home purchase doesn't go through after your solicitor or conveyancer has received your government bonus, you can re-open a Help to Buy: ISA.
Your solicitor or conveyancer will give you a document (called a purchase failure notification) confirming your home purchase did not complete. If you take this to a bank or building society, they will open an account for you. At this point, you will be able to deposit your money as a lump sum. So, if you closed your Help to Buy: ISA with £12,000 in it, you will be able to re-deposit £12,000.
Published 1 November 2015
Last updated 26 May 2016
+ show all updates
Updated to reflect the full list of Help to Buy: ISA providers
Updated content about the use of bonus funds
First published.