William Petty, 2nd Earl of Shelburne
Whig 1782 to 1783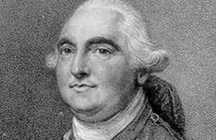 Born
2 May 1737, Dublin, Ireland
Died
7 May 1805, London
Dates in office
1782 to 1783
Political party
Whig
Interesting facts
In power at the time of the treaty of Paris which ended the American Revolutionary War/American War of Independence.
"The sun of Great Britain will set whenever she acknowledges the independence of America – the independence of America would end in the ruin of England."
The Earl of Shelburne was unfairly branded 'the Jesuit of Berkeley Square' on account of his reputation as a dissembler. His reformist inclinations, political independence and vituperative speeches certainly made him a difficult colleague, with more appeal to posterity than to his contemporary politicians.
Read more about William Petty, 2nd Earl of Shelburne on the History of government blog.