William Lamb, 2nd Viscount Melbourne
Whig 1835 to 1841, 1834 to 1834
"It is impossible that anybody can feel the being out of Parliament more keenly for me than I feel it for myself. It is actually cutting my throat. It is depriving me of the great object of my life."
---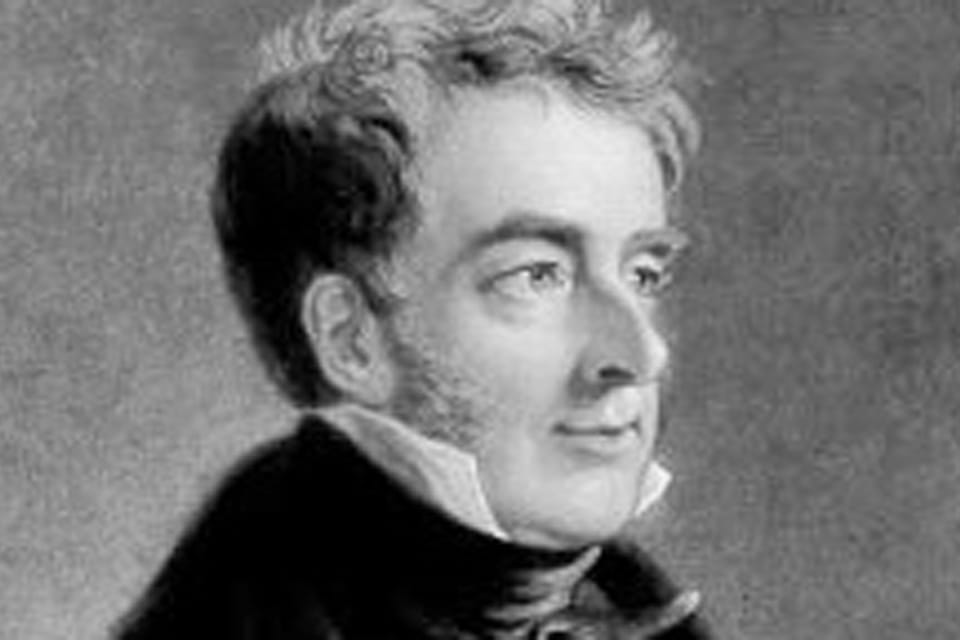 Born
15 March 1779, London
Died
24 November 1848, Brocket, Herts
Dates in office
1835 to 1841, 1834 to 1834
Political party
Whig
Major acts
Dissenters' Marriage Bill 1836: legalised civil marriage outside of the Church
Interesting facts
The city of Melbourne in Australia is named after him. He extensively tutored a young Queen Victoria in the ways of politics.
Biography
Viscount Melbourne had 2 lives – the first as the cuckolded husband in one of the most scandalous affairs of the 19th century, and the second as senior statesman and mentor to Queen Victoria.
Born William Lamb, in 1805 he succeeded his elder brother as heir to his father's title. Now known as Lord Melbourne, he married Lady Caroline Ponsonby. It was a marriage which was to cause him no small amount of grief.
He first came to general notice for reasons he would rather have avoided, when his wife had a public affair with poet Lord Byron. The resulting scandal was the talk of Britain in 1812.
In 1806 he was elected to the Commons as the Whig MP for Leominster, where he served from 1806 to 1812, and from 1816 to 1829, before joining the House of Lords on his father's death.
He was Secretary for Ireland from 1827 to 1828, and Home Secretary from 1830 to 1834, during which time he cracked down severely on agricultural unrest.
Lady Caroline Ponsonby-Lamb was not a typical politician's wife. The daughter of Frederick Ponsonby, 3rd Earl of Bessborough, and the granddaughter of the 1st Earl Spencer, she was born in 1785.
Lady Caroline married Lord Melbourne, in 1805. After 2 miscarriages, she gave birth to their only child, George Augustus Frederick, in 1807, and was devoted to him. He was epileptic and mentally handicapped and had to be cared for almost constantly.
In 1812, Caroline read Lord Byron's Childe Harold's Pilgrimage and declared: "If he was as ugly as Aesop, I must know him." On meeting Byron that summer, she famously noted in her diary that he was "mad, bad and dangerous to know". They began an affair which lasted until 1813, but even after it finished Lady Caroline's obsession with the poet continued. She published a novel, Glenarvon, in 1816 containing obvious portraits of herself, her husband, Byron and many others.
Embarrassed and disgraced, Melbourne decided to part from his wife, though the formal separation did not occur until 1825.
Lady Caroline died in 1828, aged 42, her death hastened by drink and drugs. Lord Melbourne, not yet Prime Minister, was by her bedside.
On Grey's resignation in 1834, King William IV appointed Lord Melbourne as the Prime Minister who would be the "least bad choice", and he remained in office for 7 years, except for 5 months following November 1834 when Sir Peel was in charge.
Without any strong political convictions, he held together a difficult and divided Cabinet and sustained support in the House of Commons through an alliance of Whigs, Radicals and Irish MPs.
He was not a reformer (although the Municipal Corporations Act of 1835 did make sure that the growing middle class secured control of local government), but he was efficient in keeping order, raising taxes and conducting foreign policy.
Lord Melbourne also had a close relationship to the monarch. He was Queen Victoria's first Prime Minister, and she trusted him greatly. Their close relationship was founded in his responsibility for tutoring her in the world of politics and instructing her in her role, but ran much deeper than this suggests. Queen Victoria came to regard Lord Melbourne as a mentor and personal friend, and he was given a private apartment at Windsor Castle.
Later in his premiership, his support in Parliament declined and in 1840 it grew difficult to hold the Cabinet together. His unpopular and scandal-hit term ended in August 1841, when he resigned after a series of parliamentary defeats.