Stanley Baldwin
Conservative 1935 to 1937, 1924 to 1929, 1923 to 1924
"There is no country … where there are not somewhere lovers of freedom who look to this country to carry the torch and keep it burning bright until such time as they may again be able to light their extinguished torches at our flame. We owe it not only to our own people but to the world to preserve our soul for that."
---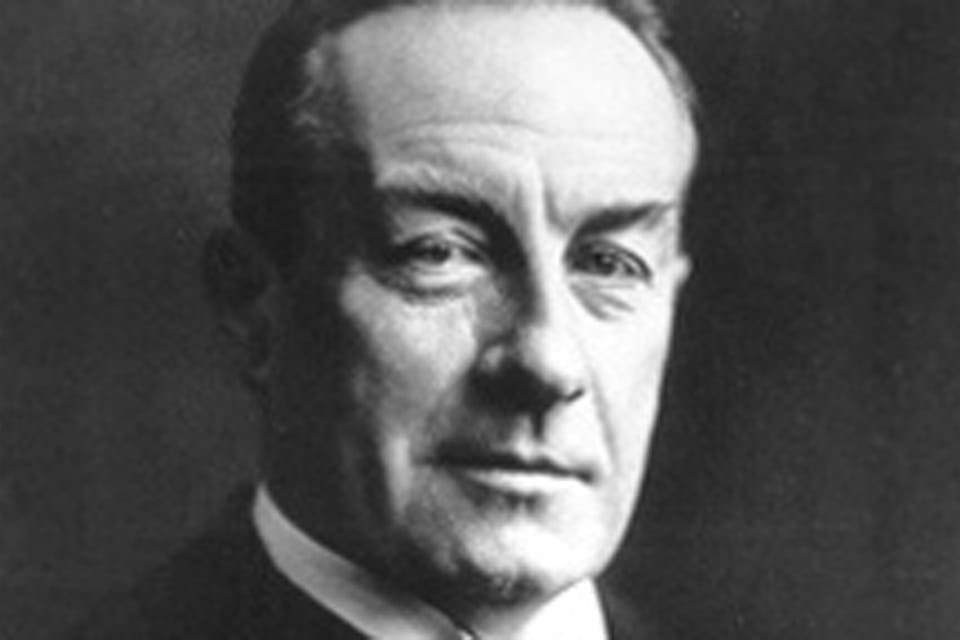 Born
3 August 1867, Bewdley, Worcesterhire
Died
14 December 1947, Stourport-on-Severn, Worcestershire
Dates in office
1935 to 1937, 1924 to 1929, 1923 to 1924
Political party
Conservative
Major acts
Trade Disputes Act 1927: following General Strike, introduced to limit powers and of trade union movement. Affected funding of Labour party too. Government of India Act 1935: gave limited powers of self-government. Heavily opposed by Winston Churchill. Public Order Act 1936: introduced to deal with street disturbances following marches by supporters of British Union Fascists and their opponents.
Interesting facts
He served under 3 monarchs.
Biography
Stanley Baldwin had a double inheritance. His father's family were wealthy industrialists and he helped his father create what was, from 1902, one of Britain's largest iron and steel firms, Baldwins Ltd. His mother's family had artistic and literary interests: his uncles included the artists Sir Edward Burne-Jones and Sir Edward Poynter, and Rudyard Kipling was a cousin.
His father, Alfred Baldwin, was also Conservative MP for West Worcestershire (Bewdley) from 1892. On Alfred's death in 1908, Stanley succeeded him as MP. His business experience helped his appointment as Financial Secretary of the Treasury in 1917, in David Lloyd George's wartime coalition government. Concerned at the financial costs of the war, under the false name of 'FST' in a 1919 letter in The Times he appealed for voluntary donations by the rich to help reduce the war debt. He himself gave a fifth of his own wealth.
In 1921 he entered the Cabinet as President of the Board of Trade, but in October 1922 he played a leading part in a Conservative rebellion that overthrew the coalition government and the premiership of Lloyd George. In Andrew Bonar Law's Conservative government he became Chancellor of the Exchequer.
When Bonar Law retired through illness in May 1923, Baldwin became Prime Minister. Determined to help reduce unemployment, he called a general election in November to seek support for a policy of trade protection. Failing to retain a majority, his government resigned in January 1924. Its replacement, the first Labour government also lacked an overall majority and, after it was defeated in another general election in October 1924, he returned as Prime Minister.
His second Conservative government was responsible for several notable achievements: the Locarno non-aggression pact, expansion of pensions and house building, local government reform and extending the right to vote to women aged over 21. Baldwin's particular concern was to reduce social tensions and secure industrial peace. Although faced by the General Strike in May 1926, his combination of firmness and conciliation guaranteed its defeat.
After the Conservatives lost the May 1929 election, Baldwin endured a severe party crisis, with attempts to force his resignation as party leader. Against considerable criticism from the main popular newspapers, he successfully fought back with a still-famous condemnation of the great 'press lords'.
During the 1931 financial and political crisis, he contributed to the formation of a coalition government, led by the former Labour Prime Minister, James Ramsay MacDonald. As Lord President of the Council, Baldwin at first sought to promote international disarmament, warning of the difficulty of defence against air attack: "the bomber will always get through". However, as the threat from Nazi Germany became obvious, he accepted the need to arm again and introduced new defence programmes each year from 1934 to 1937, against Labour and Liberal opposition.
He became Prime Minister of the national government in June 1935 and in the autumn he won a general election, promising to continue to improve national defences. When seeking to avoid war with Mussolini's Italy over Abyssinia, in order to focus effort against Hitler's Germany, his Cabinet was embarrassed by an early disclosure of a compromise settlement (the Hore-Laval pact). In retrospect, the national government's policy of combining armed deterrence with efforts to bind Hitler and Mussolini into a general European settlement seemed not enough. After the Second World War broke out in 1939, Baldwin became a leading target for those – especially Winston Churchill – who thought more could have been done to speed up rearmament and prevent war.
Faced in late 1936 with King Edward VIII's proposed marriage to the twice-divorced Mrs Wallis Simpson, which met widespread disapproval, he took the lead in making it plain that if the king persisted he should give up the throne. His management of this abdication crisis was highly praised.
Baldwin's most notable position was his support of parliamentary democracy during times when revolution and dictatorship were common European experiences. In the 1920s he sought to prevent class conflict and mix the Labour movement into the party system and, in the 1930s, he became an international figure in the defence of democratic and Christian values. From 1938 to 1939 he led a major appeal to provide financial assistance for Jewish refugees from Nazi brutality. His post-1939 reputation as a guilty man who failed to resist Hitler or to rearm persists as a popular myth, but has been overtaken by modern historical scholarship.
On his retirement from government and party politics in May 1937, he was created Earl Baldwin of Bewdley.