John Stuart, 3rd Earl of Bute
Tory 1762 to 1763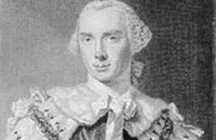 Born
25 May 1713, Parliament Square, Edinburgh
Died
10 March 1792, South Audley Street, London
Dates in office
1762 to 1763
Political party
Tory
Major acts
Cider Tax 1763: imposition of a 4 shillings per hogshead on cider to raise revenue to pay for the Seven Years War
During a debate on the cider tax: "A noble duke knows the difficulty to choose proper taxes."
John Stuart, Earl of Bute, was a favourite of George III. He was the King's tutor in the 1750s and rose quickly to high political office after George's accession in 1760. Bute faced the difficult task of negotiating peace at the end of the Seven Years War.
A new tax on cider increased his unpopularity and stoked fears that George III was more authoritarian than his predecessors. Even after his resignation, it was claimed that Bute continued to influence the king.
Read more about John Stuart, Earl of Bute, on the History of government blog.