William Cavendish Duke of Devonshire
Whig 1756 to 1757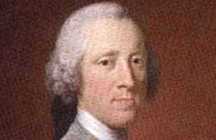 Born
Baptised 1 June 1720, Baptised St Martin's in the Fields, Westminster
Died
2 October 1764, Spa, the Austrian Netherlands (now Belgium)
Dates in office
1756 to 1757
Political party
Whig
Major acts
Militia Act 1757: established militia regiments in all counties in England and Wales, reviving the system of home defence that had been in abeyance since the Civil War.
"Every King must make use of human means to attain human ends or his affairs will go to ruin."
William Cavendish, Duke of Devonshire, was a compromise choice as First Lord of the Treasury. His tenure coincided with a period of political infighting and external threat. Devonshire's status as a major landowner and his membership of a major political family allowed him to look after the affairs of state while the Duke of Newcastle and William Pitt the elder resolved their differences.
Read more about William Cavendish, Duke of Devonshire, on the History of government blog.