Henry Pelham
Whig 1743 to 1754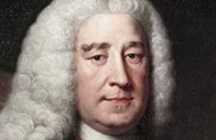 Born
Early 1696 (though some sources say 1694), Laughton, Sussex
Died
6 March 1754 , Arlington St, London
Dates in office
1743 to 1754
Political party
Whig
Major acts
The Consolidation Act 1749: reorganised the Royal Navy.

The British calendar was reorganised (New Year's Day became 1 January) in 1751: Britain would adopt the Gregorian calendar 1 year later.

The Jew Act 1753: allowed Jews to become naturalised by application to Parliament.

The Marriage Act 1753: enumerated the minimum age of consent for marriage.
On the House of Lords: "Let them alone; they make better speeches for us than we can make for ourselves."
Henry Pelham was a skilled administrator and financial manager. He had to find the resources to fund the War of the Austrian succession and was always very mindful of the costs of war and diplomacy.
His family was deeply involved in politics and his brother, the Duke of Newcastle, also became First Lord of the Treasury.
Read more about Henry Pelham on the History of government blog.