Benjamin Disraeli, the Earl of Beaconsfield
Conservative 1874 to 1880, 1868 to 1868
"There are three kinds of lies: lies, damn lies and statistics."
---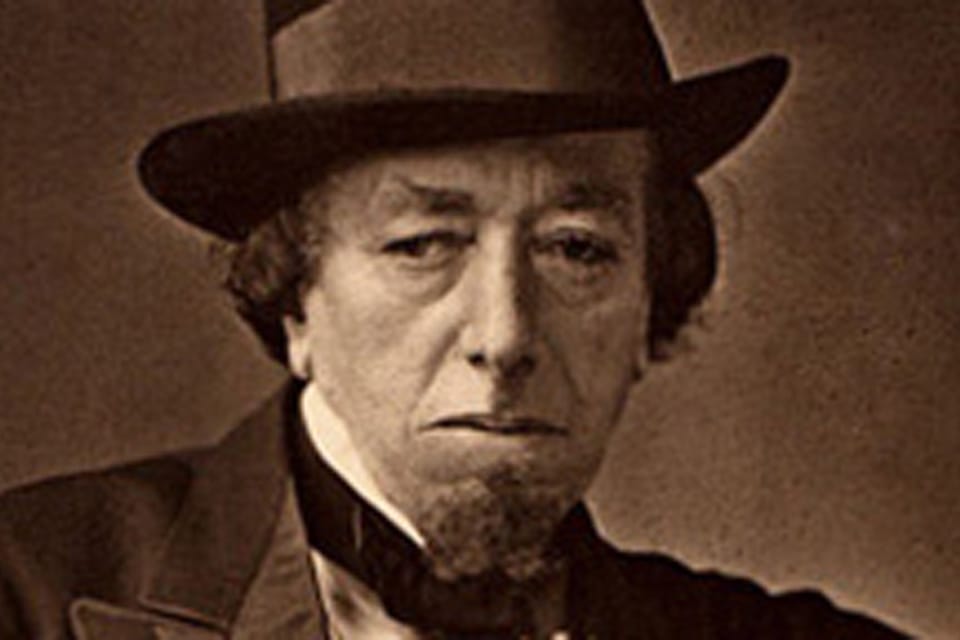 Born
21 December 1804, London
Died
19 April 1881, London
Dates in office
1874 to 1880, 1868 to 1868
Political party
Conservative
Major acts
Conspiracy and Protection of Property Act 1875: decriminalised work of trade unions and allowed peaceful picketing. Public Health Act 1875: improved sanitation and filthy living conditions in urban areas.
Interesting facts
He was the first and only Jewish Prime Minister to date.
Biography
Politician, novelist and bon viveur, Benjamin Disraeli was a man with many interests, but it was as a Conservative politician that Disraeli achieved lasting fame. PM for almost 7 years, he initiated a wide range of legislation to improve educational opportunities and the life of working people.
Benjamin 'Dizzy' Disraeli was the son of Isaac, a Jewish Italian writer, and had an Anglican upbringing after the age of 12. With Jews excluded from Parliament until 1858, this enabled Disraeli to follow a career that would otherwise have been denied him. He was Britain's first, and so far only, Jewish Prime Minister.
Aged 20 he lost money by gambling on the Stock Exchange, and helped to launch The Representative, a newspaper intended to usurp The Times, but it soon failed.
He went on to produce an anonymously-written satirical novel, Vivian Grey, which caricatured a former business partner. Success, however, turned to slander when his authorship was revealed. The stress caused by this, and by his continuing debts, drove him to suffer a nervous breakdown.
Disraeli was elected to represent Maidstone as a Peelite in 1837. Despite being mocked when he made his maiden speech, he defiantly pronounced "the time will come when you will hear me".
He was then elected to represent Shrewsbury in 1841, and came to be regarded as witty and able. But Peel failed to offer Disraeli a place in the Cabinet - and Disraeli never forgot it.
After keeping his resentment private for a time, he attacked Peel bitterly over his decision to repeal the Corn Laws, eventually forcing the resignation of Peel's government in June 1846.
At last in 1852 the Prime Minister, Lord Derby, offered Disraeli a place in government as Leader of the Commons and Chancellor of the Exchequer. The defeat of Disraeli's December Budget, though, torn to pieces by Gladstone, caused the government's downfall.
After Derby's resignation in 1868, Queen Victoria invited Disraeli to become Prime Minister, and they soon struck up a remarkable rapport thanks to Disraeli's charm and skilful flattery. He was later to tell a colleague, who had asked for advice on how to handle the Queen, "first of all, remember she is woman".
On finally achieving his long ambition, Disraeli declared, "I have climbed to the top of the greasy pole".
After defeat by the Liberals at the next election, his position as Conservative leader was at risk. His health was poor and his wife died in 1872, prompting him to write: "I am totally unable to meet the catastrophe". Yet he carried on. Disraeli now faced Gladstone across the Dispatch Box, and it became Britain's most famous parliamentary rivalry. The contrast in their physical appearances and their styles was stark, and the hatred was strong.
Disraeli became Prime Minister once again in 1874, aged 70. This was a successful premiership, though it has been said that the legislation of this time depended much less upon Dizzy himself than upon his Cabinet colleagues.
The premiership saw the passing of a large amount of social legislation: the 1875 Climbing Boys Act reinforced the ban on employing juvenile chimney sweeps; the 1875 Artisans Dwelling Act allowed local authorities to destroy slums, though this was voluntary, and provided housing for the poor. In the same year the Public Health Act provided sanitation such as running water and refuse disposal.
On being made Earl of Beaconsfield by Victoria in 1879, Disraeli governed from the House of Lords. Foreign policy became increasingly important, especially the Eastern Question following Turkish atrocities against the Bulgarians.
The 1880 election was lost to the Liberals, a narrow loss in terms of votes cast. Disraeli threw himself into the job of Opposition, and was active until a month before his death from bronchitis in April 1881.
On his deathbed, he is reported to have said: "I had rather live but I am not afraid to die".
More from the GOV.UK History of Government blog