Case study
WW1 Pakistani VC recipient Shahamad Khan
The story of Pakistani First World War Victoria Cross recipient Shahamad Khan.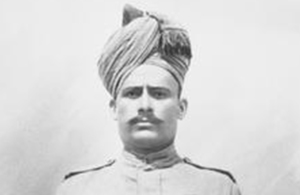 3 men from Pakistan received the Victoria Cross, Britain's highest award for gallantry, during the First World War. As part of the Centenary Commemorations the people of the United Kingdom marked their gratitude to those courageous men by presenting a bronze memorial plaque to their home country engraved with their names. This archive tells their stories.
Name: Shahamad Khan
DOB: 1 July 1879
Place of Birth: Rawalpindi, British India (now Pakistan)
Date of Action: 12 to 13 April 1916
Place of Action: The Tigris Front, Mesopotamia (now Iraq)
Rank: Naik
Regiment: 89th Punjabis
Shahamad Khan was a Punjabi Muslim who was born on 1 July 1879, in Rawalpindi (now part of Pakistan). He served as a Naik, (the equivalent to a corporal) in the 89th Punjabis (now 1st Battalion the Baloch Regiment, Pakistan Army), of the British Indian Army during the First World War.
Khan was awarded the Victoria Cross for most conspicuous bravery in Mesopotamia (now present-day Iraq) on 12 to 13 April 1916. He was in charge of a machine gun covering a gap in the line very close to the enemy's trench. His citation explains further:
He was in charge of a machine gun section in an exposed position, in front of and covering a gap in our new line, within 150 yards of the enemy's entrenched position. He beat off three counter attacks and worked his gun single-handed after all his men, except two belt-fillers, had become casualties. For three hours he held the gap under very heavy fire while it was being made secure. When his gun was knocked out by hostile fire he and his two belt-fillers held their ground with rifles till ordered to withdraw. With three men sent to assist him he then brought back his gun, ammunition, and one severely wounded man unable to walk. Finally, he himself returned and removed all remaining arms and equipment except two shovels. But for his great gallantry and determination our line must have been penetrated by the enemy.
He later achieved the rank of Subedar (equivalent of a Captain). Shahamad Khan died in 1947 in his ancestral village of Takhti, Pakistan.
Published 20 June 2016
Last updated 21 June 2016
+ show all updates
Added translation
Added translation