Case study
WW1 Australian VC recipient Leonard Maurice Keysor
The story of Australian First World War Victoria Cross recipient Leonard Maurice Keysor.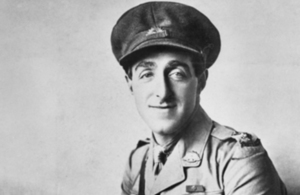 66 men from Australia received the Victoria Cross, Britain's highest award for gallantry, during the First World War. As part of the Centenary Commemorations the people of the United Kingdom marked their gratitude to those courageous men by presenting a bronze memorial plaque to their home country engraved with their names. The plaque is now displayed at the Australian War Memorial. This archive tells their stories.
Name: Leonard Maurice Keysor
DOB: 3 November 1885
Place of Birth: London, England
Date of Action: 7 to 8 August 1915
Place of Action: Lone Pine, Gallipoli
Rank: Lance Corporal
Regiment: 1st Battalion, Australian Imperial Force
Although not born in Australia, Leonard Maurice Keysor received his Victoria Cross as a member of the Australian Imperial Force. In fact, he was born in London on 3 November 1885. He spent 10 years in Canada whilst growing up, and moved to Sydney shortly before war broke out. He joined the 1st Battalion of the Australian Imperial Force and took part in the Gallipoli landing of 25 April 1915.
He was awarded the Victoria Cross for his heroic efforts as a master bomb thrower during the Battle of Lone Pine in August 1915. His citation reads:
For most conspicuous bravery and devotion to duty at Lone Pine trenches in the Gallipoli Peninsula on 7th August 1915, Keysor was in a trench which was being heavily bombed by the enemy. At great personal risk he picked up two live bombs and threw them back at the enemy. Though wounded he continued throwing bombs, thereby saving a most important portion of the trench. Next day Keysor bombed the enemy out of a position from which temporary mastery of his own trench had been obtained. Although again wounded he declined evacuation, volunteering to throw bombs for another company, which had lost all its bomb-throwers. He continued to bomb the enemy until the situation was relieved.
Keysor continued fighting for fifty consecutive hours despite sustaining injuries for which he refused treatment. After Gallipoli, Keysor was evacuated to England with a fever, where he received his Victoria Cross personally, from King George V at Buckingham Palace. He later served in France on the Western Front until the end of the war, including at the Battle of Pozières. He still thought of himself as a Londoner, and so returned to live in the UK after the war, where he met and married his wife. In 1927, he re-enacted his bomb-throwing exploits in a film "For Valour". He died in London in 1951.
Published 20 June 2016