How UK aid is rebuilding business and investment in Sierra Leone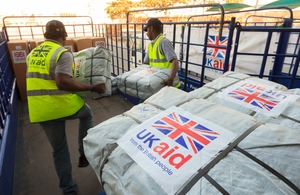 Back from the brink
How does a country recover from a vicious civil war to deliver reforms which have seen it rise up the rankings in the World Bank's doing business index less than a decade later?
The answer can be found in Freetown, Sierra Leone, where UK support is boosting business, increasing tax receipts and encouraging inward investment.
Video by International Finance Corporation: Rebuilding Business and Investment in Post-Conflict Sierra Leone)
Cutting red tape
The business community in Sierra Leone is benefitting from the Reducing Administrative Barriers to Investment (RABI) scheme, also funded by the International Finance Corporation, part of the World Bank Group, which has cut the red tape which made it difficult and expensive to set up and run a company.
The creation of a 'one-stop shop' for entrepreneurs looking to start a business has helped reduce waiting times and costs. In 2008 it took an average of 26 days and $4,500 to register a business. But now, in 2011, the time has dropped by more than half to 12 days and the cost has fallen by over 90 per cent to $350.
This has led to a boom in new businesses - between 2005 and 2007, 1,800 new companies were set up in Sierra Leone. In 2010, 4,500 new companies were registered, contributing to the creation of 16,800 extra jobs across the country.
Nothing is certain
Efforts to simplify the Sierra Leone tax system have also received UK and IFC support through RABI and seen Sierra Leone jump from 160th to 76th in the paying tax element of the World Bank index.
Historically, tax payment and collection has been poor as a complicated system and a large informal business sector meant millions of people either paid up late or not at all
This picture is changing, for example the introduction of the Goods and Services Tax has seen the amalgamation of seven other taxes into 1 simple, efficient charge.
Doesn't need to be taxing
Sierra Leoneans are seeing the benefits too. After initial concerns that customers were refusing to use businesses who charged the GST, a large-scale tax education and advertising campaign means consumers now understand why it is charged and the services it funds.
Traders are also benefitting from a direct link to the government through the Sierra Leone Business Forum, where they can raise ideas and issues while workers are reaping the rewards of the Sierra Leone Investment and Export Promotion Agency, which is attracting large multinational companies to the country.
Way to go
There is still a long way to go. Traders outside Freetown are concerned that administrative services are too centralised while informal businesses still lack access to energy and finance.
But schemes such as RABI are strengthening the Sierra Leone economy and building a platform for future growth.
"Reform is about improvement and improvement really is a continuous process," says Oluniyi Robbin-Coker, adviser to President Ernest Bai Koroma, while Dr Eva Roberts, owner of Morgiva Tea, adds: "It's good, we're getting there."
Published 19 December 2011