Case study
Weaving a better future
How support from the UK government is helping business owners like Jehan get back on their feet.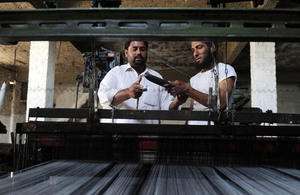 Twenty-eight-year old Jehan Iqbal lives in Mingora, in the Swat province. Ten years ago he set up the Iqbal Brothers Silk Mill, where he employed 21 people and had 42 large machines producing silk products.
It was not an easy ride. It took me years of hard work to learn and master the intricacies of silk production, but I always had an ambition to do something that would be sustainable and would help support and provide a better future for my family. Their support at every step of the way was invaluable, from working in factories to owning one of my own.
Towards the end of 2006 the situation in Swat deteriorated considerably. An attack near Jehan's factory killed dozens of soldiers and damaged the roof of the factory, which collapsed onto the equipment inside. As the security situation worsened, Jehan had to evacuate to Peshawar and move to a camp for internally displaced persons (IDP) in Mardan – where he had to live for the next 3 years.
I was devastated. My life's work had perished before my eyes – and to make things worse I had to abandon my home and move my family to Mardan. Life at the IDP camp was tough. Conditions were difficult, especially for the children.
When he returned home in late 2009 a lot of the infrastructure in the area had been destroyed and homes, schools, hospitals and markets were all deserted. His factory building, including all the equipment inside, had been completely destroyed.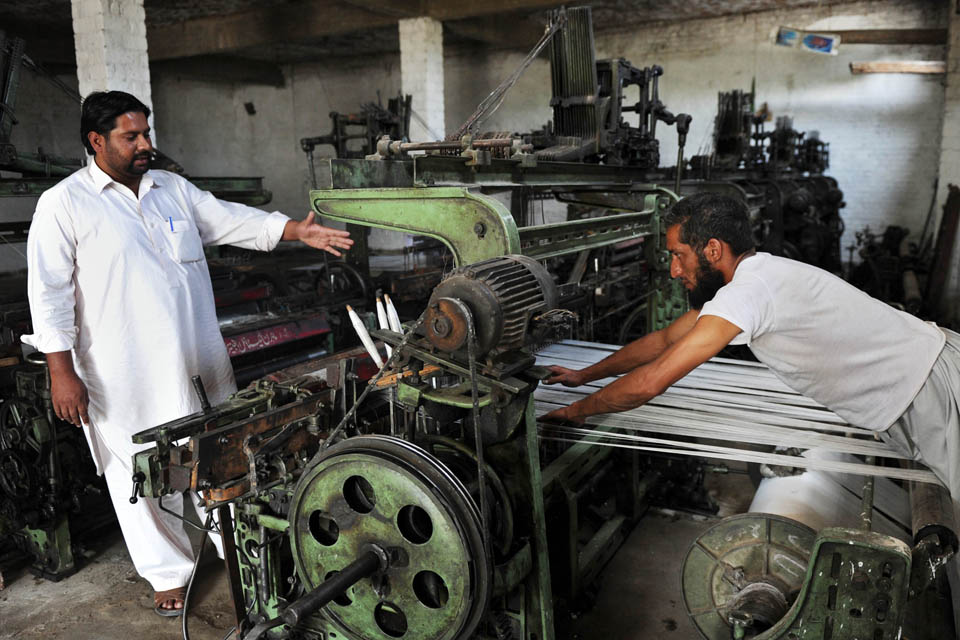 Desperate for help, Jehan had a chance meeting with a representative of the Small and Medium Enterprise Development Agency (SMEDA) which is funded by the Multi-Donor Trust Fund (MDTF). The MDTF provides grants through its Khyber Pakhtunkhwa (KP) and Federally Administered Tribal Areas (FATA) Economic Revitalisation project to SMEDA to help small and medium enterprises affected by the crisis in the region. KP and FATA have consistently been among the poorest regions in Pakistan. The worsening of the security situation and subsequent crisis in 2009 displaced an estimated 2 million people and caused massive damage to infrastructure and livelihoods.
The UK is the largest contributor to the MDTF. The MDTF supports the creation of new jobs and helps those who lost their jobs during the crisis, helping to improve the overall business environment in the area. Small and medium-sized enterprises (SMEs) are selected to receive grants after taking into account factors such as the number of employees, a sound business plan and financial history.
A few weeks later a team from SMEDA visited the factory to get an exact picture of the losses, and before long, Jehan was informed that a grant of Rs.800,000 had been approved which would be paid in 3 instalments.
With the first instalment, Jehan purchased a transformer, carried out minor repair work on the buildings and machines and paid a year's rent in advance. He currently has 8 machines in working condition, but due to lack of finances only 3 are functioning.
Each machine produces 100 metres of cloth daily. When I receive the remaining grant amount, I plan to purchase silk for the other 5 machines. This will not only increase my annual income by Rs.500,000, but I will also be able to employ an additional 6 workers from the area.
Jehan said that since receiving the grant money, 10 people from the surrounding area had approached him for information about similar grants. Since then, 2 of them had received grants while the remaining cases are being processed.
These kinds of initiatives not only help business owners like me to get back on their feet, but also contribute towards overcoming rising unemployment, which in the long run would help promote peace and security in the area.
Facts and stats
MDTF has supported the building of 15.5 km of provincial highway in Swat, benefitting about 300,000 people. Another 14.1 km is planned by June 2015.

MDTF has also supported the creation of over 22,700 jobs in small and medium enterprises.

Round one of the MDTF is running to June 2016. We are actively engaged in Round 2 funding.
Published 23 March 2015