Case study
UKEF insures agricultural manufacturing exports to Ukraine
When private sector insurers could not offer cover for trade with Ukraine, UK Export Finance helped Legume Technology manage its payment risk.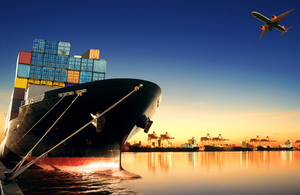 When security issues in Ukraine made it difficult for Legume Technology to get insurance against non-payment for sales of its fertiliser in the country, it faced having to refuse to do further business there. UK Export Finance (UKEF) responded quickly and issued an export insurance policy. This gave the company security for its current employees and the confidence to increase production capacity.
Natural solutions
Nottinghamshire-based Legume Technology manufactures a range of specialist fertilisers using natural bacteria to replace chemical fertilisers for pulse crops. The company has increased its turnover from £100,000 to around £1.5 million over the past four years, with distributors throughout Europe, Africa and North America.
One country where orders for its products have been increasing steadily is Ukraine, which now represents about 30% of the firm's sales. However, when the company wanted to increase its business further to distributors covering Ukraine's soy bean sector and wanted to insure against the risk of non-payment, it was unable to obtain cover from the private sector due to the unstable political situation in the country.
Dr Bruce Knight, Managing Director, Legume Technology, said:
After steadily growing our exports to Ukraine for four years, customers were placing orders of a size where we could not make them fast enough, so had to manufacture months ahead of the delivery window.

Yet nobody would pay 100% up-front. That non-payment risk was considerable for a small company like us, especially if Ukraine's situation were to decline further.
Managing risk
As the conflict continued, Legume Technology remained unable to source any commercial cover against non‑payment. Then they discussed the problem with UKEF. We agreed to issue an Export Insurance Policy (EXIP) under which we covered the non-payment risk on fertiliser exports to Legume Technology's main Ukrainian distributor. Dr Knight, continued:
We had a response [from UKEF] within the space of three hours

The help we received from UKEF gave us the confidence to put time and money into stock for Ukraine. This has given us both security for our current employees and the confidence to increase production capacity.
More information
New business enquiries
Our helpline is open from 9am to 5pm.
Published 21 July 2015