Case study
Using community pharmacists to provide HIV testing in Cumbria
This project will see targeted community pharmacists delivering HIV testing in their local high street.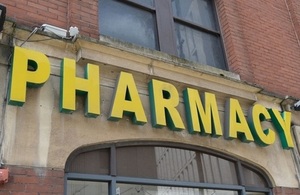 Summary
In 2015, Cumbria was highlighted as an area of high risk for late diagnosis of HIV following a number of serious complications, including 2 deaths, which could have been prevented with earlier diagnosis. 66.7% of all HIV diagnoses in Cumbria are late. Research clearly shows that those who don't know they have HIV are at higher risk of transmitting HIV; reducing the pool of undiagnosed individuals, improves HIV prevention efforts.
Cumbria is challenged by its geography. Small localities inhibit access to testing where people do not want their GPs to test their HIV status, nor do they wish to attend sexual health clinics. Equally, there are complexities for some individuals receiving postal kits to their home or work address.
What is involved
This recently started pilot project is hosted by OutReach Cumbria, developed in conjunction with the local pharmacy committee and Cumbria Partnership NHS Foundation trust, and supported by Cumbria County Council. It aims to make HIV testing an everyday occurrence within pharmacies. Pharmacies have trained staff, excellent opening times, private areas and most importantly, there is little risk of disclosure. Given the vast geography of Cumbria and its low population density, we are widening access significantly by encompassing pharmacy into the delivery efforts of HIV testing.
The project will identify 15 to 20 'beacon' pharmacies in areas with higher levels of high risk groups (including Carlisle and Barrow). Pharmacists will be trained in sexual health discussions and how to deliver HIV or syphilis point of care testing (POCT). Pharmacies will be sufficiently resourced to provide condoms and chlamydia or gonorrhoea screening during the same visit.
The pilot project comprises:
training of pharmacists in identified beacon sites
secondment of band 6 nurse 0.4 whole time equivalent to support delivery
supply chain for calling on consumables
advertising of service
delivery of service (milestones per 100 cases, funding is sufficient for 1000 cases)
Clinical incidents will be managed using lead NHS trust protocols. With clear linkage into level 3 genito-urinary medicine (GUM) care for any reactive results or complex issues, the project removes some of the barriers faced by patients by:
bringing HIV testing to the high street at times that may be more convenient to them
reducing concerns of people they know finding out about the testing
What works well
Widening testing and bringing it into the community rather than focused around medically qualified providers, or third sector organisations with whom some individuals do not feel comfortable associating, is consistent with and supportive of, making HIV testing normal. There are benefits from testing local to home where people can also receive clinical advice.
The project has support of the commissioner in the local authority as well as from the local pharmacy committee, and the local NHS provider of sexual health. The project will significantly enhance joint working.
The company producing the testing kit is able to support the project through reducing costs.
Cathryn Beckett-Hill, Public Health Manager, Cumbria County Council said:
Whilst prevalence of HIV in Cumbria remains low, our local rate of late diagnosis is an issue that we are working together to improve.

By broadening local HIV testing through this pilot to include point of care testing in beacon pharmacies, we hope to reduce geographical and social barriers to increase the uptake of HIV testing across Cumbria, and reduce late and undiagnosed HIV.
Next steps
The pilot project is expected to complete 1000 point of care tests. Pharmacists within selected Cumbrian Healthy Living Pharmacies will record point of care results through a central database developed on PharmOutcomes. Patient or user satisfaction results will be measured as well as pharmacist delivery satisfaction. The metric of success will be uptake rather than diagnosis, given the low prevalence and incidence rate in the area.
The pilot will identify pharmacies where testing rates are high, for sustained support through the local authority and local NHS provider once the pilot is completed.
Further information
Published 1 December 2016