Case study
Box Chicken: providing healthy competition to fast food outlets
A pilot fast food takeaway project, providing a healthy alternative to fried chicken, for schools and the local community.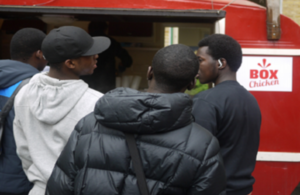 Summary
Shift Design, a charitable foundation and trust, initiated a project in Newham, London, using a mobile catering van to provide food that was healthier than the existing fried chicken outlets but just as cheap, quick, convenient and tasty.
What was involved
At the time of the project in autumn 2013, Newham was one of the 3 most deprived boroughs in London. It had the fifth highest levels of obesity in England among Year 6 students, with 25.6% classed as obese compared to a national average of 19.2% and 38% of 13 to 14 year olds eating fast food about once a week, 12% every day. In Newham, 28% of the 258 hot food takeaway outlets at the time were fried chicken shops.
Following research, Shift Design, in partnership with Create London, developed a pilot project to deliver access to healthier food options that were popular and financially sustainable. Over a 4 week period a mobile catering unit served hot, tasty, cheap, quick yet healthier food, during students' lunch hours and after school. The target audience consisted of 3 local secondary schools and the local community.
The caterer developed 4 recipes that were reportedly tasty and quick to serve and also looked to follow Public Health England's nutritional guidance for Change4life recipes. These included Caribbean chicken, Spanish chicken, Peri Peri chicken and a vegetable option, all under the brand Box Chicken.
The average 300g box contained:
at least 1.5 portions of vegetables
373 calories
7g of sugar
8g of fat, of which only 1.5g was saturated fat
less than 1g of salt
Students were charged a lower price for a standard chicken box (£2.50 compared to £3.50 for an adult).
Over the 4 week period 1,362 meals were sold. Of these, 383 portions were sold to young people (28%) and the remainder were sold to adults in the local community. A gross profit was made during this period, before branding and caterer salary were taken into account. It was estimated that around 50% more meal sales would have been needed to cover these costs.
What works well
The evaluation report highlights that customers were enthusiastic about the taste of the food. Evaluation showed people rated the taste highly and students and people working in the immediate vicinity commented that they liked the availability of an alternative to fried chicken.
The project enabled 2 young people to gain work experience through Create Jobs, giving them the opportunity to find out about certain aspects of setting up a food business including market research and food preparation. Additionally, it provided opportunities for 4 volunteers to gains skills and experience that helped them further their careers.
The project generated a high level of interest and engagement from local partners including:
the council
local schools
public health departments in east London
local business networks
street food networks in London and nationally.
What could be better
The location of the van was close to 1 school but further away from the other 2 schools and only 16% of the students indicated that the location of Box Chicken was convenient. Temporarily relocating the van showed that it is essential to be close to a school to target its students, preferably within 200m. This would have the potential to significantly increase overall sales, improving profitability. 68% of all students surveyed said that if there was a local outlet selling food similar to Box Chicken, they would visit it at least once or twice a week.
Next steps
This pilot has been followed by several further trials, working with council partners in Tower Hamlets, Camden and Hackney. These trials gave a clear picture of many of the challenges and opportunities for healthier takeaway services. Using that experience and working closely with a network of partners, Shift is currently developing a proposition for a new UK fast food brand, which will aim to take tasty, affordable and healthy fast food into communities across the country.
Further information
Contact Chris Holmes: chris.holmes@shiftdesign.org.uk.
Published 31 March 2017