Case study
UKTI helps Instarmac expand into Malaysia
Malaysia is a great springboard for business into Southeast Asia.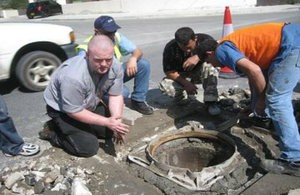 Instarmac is a specialist in the manufacture and distribution of cement and bitumen based products. The company has an award-winning product range of highway maintenance, mortar paving system, tile adhesive and commercial flooring solutions. Founded in 1977, the company has built an export business worth more than £3 million per annum, covering 30 countries.
Export Manager of Instarmac, Angus Longward explains:
We decided to start trading overseas to further grow the business. Although our UK market is still growing it was important for the long term health of the company that we diversified into other markets.
UKTI support
The company had been working with a UK Trade & Investment (UKTI) International Trade Advisor for some time and in November 2010 attended a UKTI Asia Task Force event held in the UK. After hearing about the Malaysian market and the business opportunities, Instarmac commissioned an Overseas Market Introduction Service (OMIS ) with the UKTI team in Malaysia. As a result of the UKTI research, the company went into business with a local Malaysian partner that became an Instarmac licensee. The new Malaysian joint venture is proving to be very successful. Longward said:
The research UKTI provided was invaluable in helping us understand the Malaysian market and source the right local business partner.
Repairing Malaysia's roads
Potholes create dangerous and sometimes fatal road conditions and are very prevalent on Malaysian roads due to the country's tropical climate and monsoon rains. Malaysia spends millions of Ringgit every year repairing the country's potholes. The traditional practice during the wet season is to carry out a temporary cold pre-mix repair and then carry out a permanent repair using hot-mix during the dry season. However, Instarmac's world renowned 'Ultracrete' Cold Lay Asphalt materials provide a permanent solution in the wet or dry season. The product can be opened instantly to traffic, causing less traffic disruption and congestion, and involves less wastage because only the amount required has to be purchased while with hot mix it has to be purchased by the truck load.
Malaysia's business advantages
Instarmac thought Malaysia was a good business market for a number of reasons. Malaysia is a Commonwealth country so it shares historical and cultural connections with the UK, and therefore is easier to access in comparison to other markets in Asia for a UK company. English is commonly spoken and especially in business. The market is quite large with a population of 29 million and is still developing, offering lots of business opportunities. Malaysia's monsoon climate means potholes are an ongoing problem on the country's extensive 60,000 km road network. Many of Malaysia's expressways are privately owned toll roads with significant road maintenance budgets.
Future plans
Instarmac and local partner Protasco Berhad plan to grow the new Malaysian business and believe it could become a hub for the region. The company has already set up a factory outside Kuala Lumpur to manufacture the road repair product that is made using Instarmac's secret Ultracrete binder, manufactured in the UK. Longward concludes:
Malaysia is a great springboard for Southeast Asia.
Instarmac top three tips
Use the services of UK Trade & Investment for market research in overseas markets because they have the local knowledge and local contacts to help kick-start your new business venture.

Visit all the key players in the market before choosing your business partner and always work through your local partner.

Regularly visit and provide the required support to your local partner to help grow the business. Malaysian business is all about building strong relationships and your Malaysian partner expects you to be close to them.
Choosing the right Malaysian partner
Under the recent Economic Transformation Programme, Malaysia has been steadily reducing the number of sectors where overseas companies require a local equity partner in order to operate in the market. However, many government-tendered projects continue to be open only to local bumiputera companies and for business sectors that are not yet liberalised UK companies can only enter the market with a Malaysian partner. A local Malaysian partner should be chosen with care, and UK Trade & Investment can provide the research to ensure UK companies take informed decisions.
Further Information
UK Trade & Investment's OMIS is a flexible business tool, letting you use the services of our trade teams, located in our embassies, high commissions and consulates across the world, to benefit your business from market sector advice and analysis of market entry strategies to support during overseas visits and identification of possible business partners.
Published 4 April 2013