Case study
The people beating corrupt practices around the world
From paying the right tax to keeping an eye on cowboy constructors - UK aid is helping people power to beat corruption.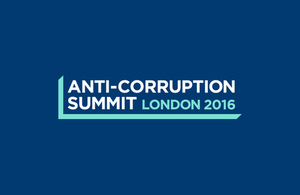 NIGERIA: Technology to make tax collection fair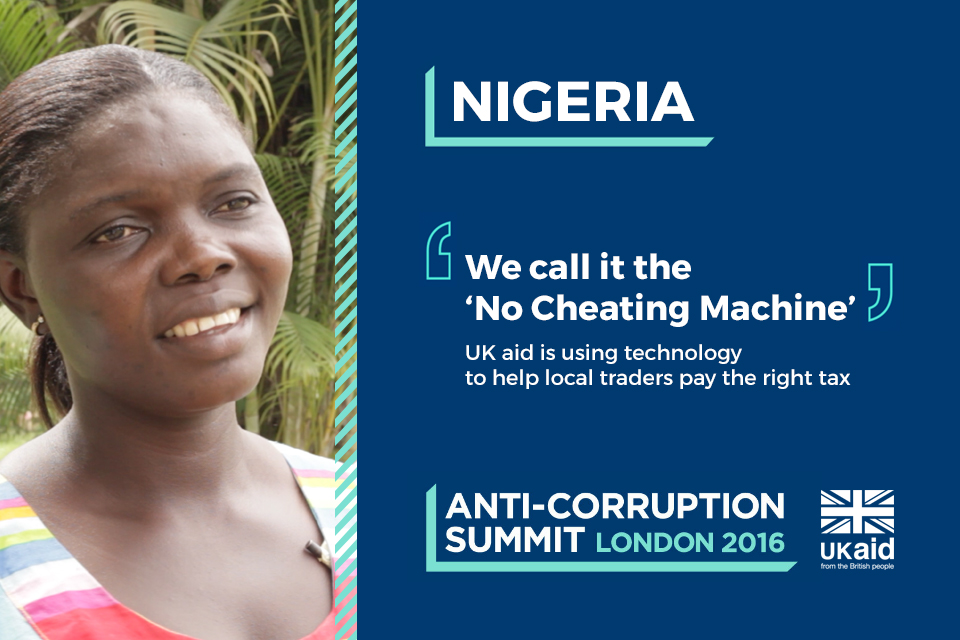 "We call it the No Cheating Machine!"
Bridget Iyaji Odeh is a market trader in Cross River State, Nigeria. She's referring to an innovative new use of technology to stop corruption by local tax collectors.
Traders like Bridget used to pay in cash only and receive a hand written receipt. This made it easy for tax officials to keep a lot of what they collected off the books – and that led to traders being overcharged and money going missing.
The new technology – introduced with the help of UK aid and Adam Smith International – re-purposes the bank card readers you would usually find in a shop.
The hand-held machines let traders pay by card or cash and the transaction is automatically logged centrally and a receipt printed as proof – meaning there's no chance for the collectors to skim some hidden cash off the top.
Thanks to the project, over 20 local governments in Nigeria have adopted the new system. By June 2015, a total of £1.9 million had been saved by traders – many of them women – as a result of reduced bribery.
For Bridget and her fellow traders, it's made a big difference: now they pay 20 Naira in tax each week – instead of up to 100 Naira a day. And it's had a wider knock-on effect: the market is busier now and, because they're paying the set flat rate rather than per item, they feel free to display all their goods without fear of the tax collector exploiting them.
Tax is just one arena where UK aid is helping Nigeria to beat unfair practices. With British backing, Nigeria is cracking down on corruption - recovering $6.2 billion of cash over the last 4 years and charging 338 people with corruption offences.
BANGLADESH: Widows win back their rights
"I feel like I have got hope at the end of my life."
Shahida Beowa is looking forward again, after winning a 10 year battle to claim the welfare that was rightfully hers.
Shahida lives in north-east Bangladesh, and had lost both her husband and her land. She was surviving off just one meal a day.
As an elderly widow with no home, she knew she was entitled to a government allowance to help her through – but she was told by local officials that her name wasn't on the list.
That's when she contacted her community forum. The group – backed by UK aid – helps poor women to fight for their rights from local government, raises awareness and demands accountability.
They pressed the authorities into action. On investigation, it was revealed that Shahida's welfare card had actually been issued a decade earlier – but no-one had told her.
Instead, it was wrongfully given to another woman entirely – by the head of the local government. "I am totally shocked," she said. "How can my allowance be given to someone else, but no one bothered to tell me? This is corruption against the poorest."
After 9 more months of lobbying by her community forum, Shahida was finally issued a new card in November 2015.
It's a small amount, but it's the difference that puts her above the breadline. "I can buy a few things that I need with this money," she says. "I can also eat meat and fish."
AFGHANISTAN: Keeping an eye on cowboy constructors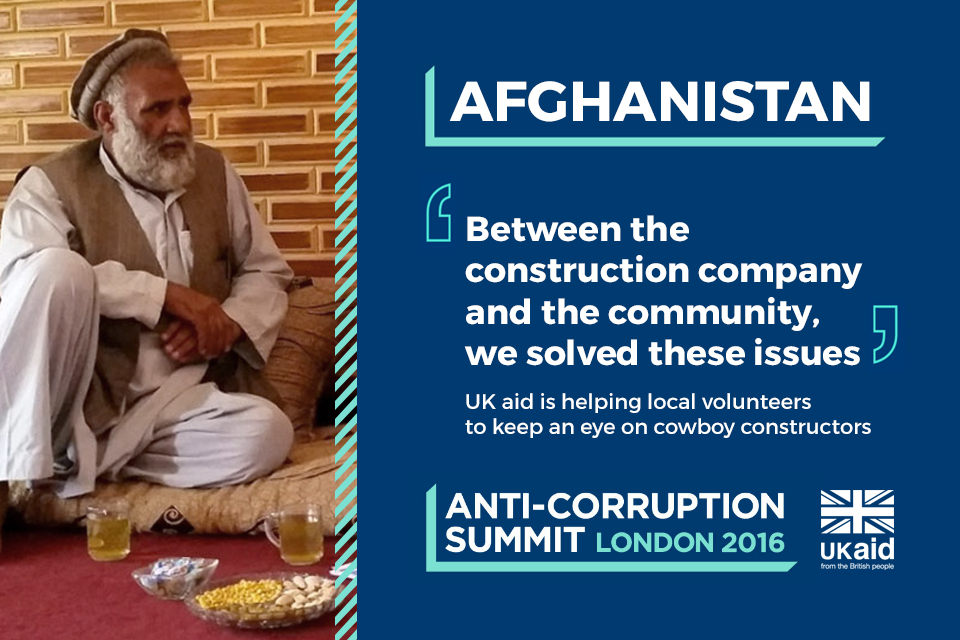 Afghanistan is rebuilding – with new roads, schools and clinics being invested in by both its own government and international aid agencies.
But in the most remote areas, or areas that are less secure, it can be very difficult to effectively monitor progress as construction continues.
Without an ever-present eye, this means some contractors take shortcuts: from using cheaper building materials to going off-plan altogether. It doesn't just cost public money – it puts lives at risk.
That's why Integrity Watch – with the help of UK aid – is training thousands of local volunteers to help keep tabs on the construction companies.
The community monitoring teams are trained to spot substandard practices, poor workmanship and even fraud – and how to bring these to the attention of the authorities.
One such case was in Nangarhar Province, where a local school was recently rebuilt. Village elder Mirzaman said: "My oldest son, Ikramullah, is a 12th grade student at Mohammadi Sahibzada School.
"During the construction, our monitors identified a number of serious flaws including incorrectly constructed pillars and a drinking water well located close to the bathrooms."
These problems could have posed a serious risk for safety of the building and a health risk to the students themselves – but the teams raised their concerns with government officials.
Mirzaman continued: "We arranged meetings between the construction company and the community members and succeeded to resolve these issues."
Eventually, people power won. After extensive discussions – and the evidence presented – the contractor agreed to remake the pillars and to relocate the well for the school.
Since the project began in 2007, around 1,000 building projects have been monitored. In the last year alone, 151 problems were identified, of which 119 have so far been resolved.
KENYA: Keeping cattle safe from counterfeit medicines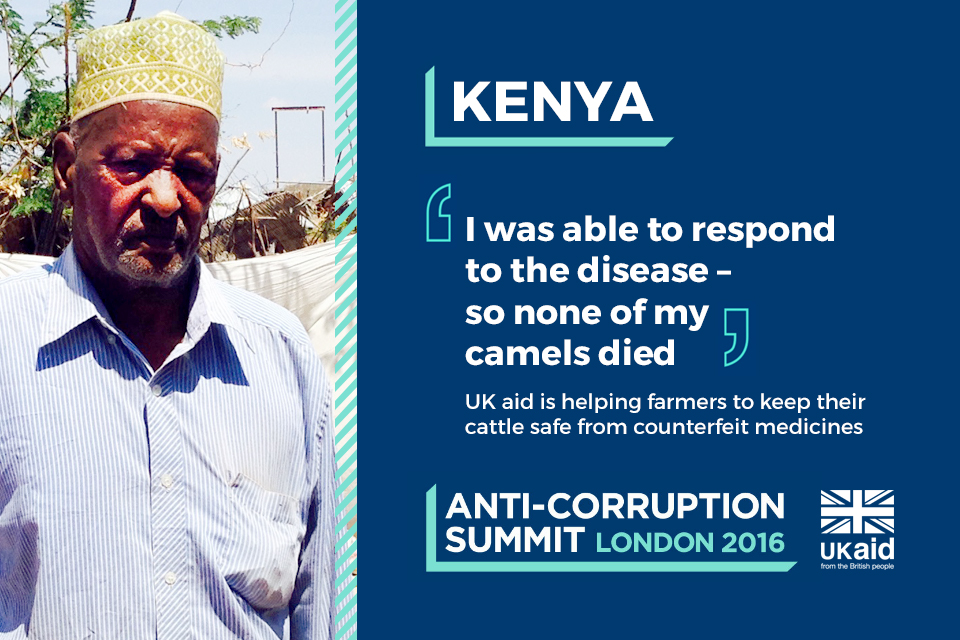 Mzee Abdi Adan Bulle is a relieved man. He's a camel and cattle farmer in Wajir, Northern Kenya, who recently faced a serious threat to the very animals he depends on.
A local outbreak of a deadly camel disease could have wiped out his livelihood, but Mzee didn't lose one of his herd. In fact – his livestock numbers are growing.
That's because he could get the proper medicines his camels needed. But other pastoralists in the area aren't so lucky, having to make do with counterfeit drugs that leave their livelihoods at risk.
The Kenya Market Trust – funded by UK aid – is helping to tackle the use of counterfeit animal products that often come across the border from Ethiopia or Somalia.
The project is joining up certified local vets with reputable and reliable suppliers to ensure the use of quality, effective drugs.
"Thanks to my close contact with the veterinary officer and availability of these quality drugs, I was able to respond to the camel disease outbreak recently and none of my camels died," explains Mzee.
"My livestock numbers have grown from 400 camels and 300 cattle to 500 and 400 respectively in one year," he continues. "Thank you for coming to our rescue."
On 12 May 2016, Prime Minister David Cameron is hosting an anti-corruption summit in London. It will bring together world leaders, business and civil society to tackle corrupt practices across the globe Find out more.
Published 12 May 2016